Thursday 9/9/2021 16:54 Ian Fraser
Net Zero 2040: Scotch Whisky's Big Green Agenda
Sustainability and net-zero have become buzzwords everywhere, but few industries are pushing to become and prove themselves as 'green' as Scotch whisky, reports Ian Fraser for WhiskyInvestDirect...
ANAEROBIC digestion, biofuels, hydrogen power, supply-chain decarbonisation, solar farms, tree-planting at scale...
These are just some of the buzzwords and initiatives on which Scotch whisky producers have embarked as they seek to revolutionise their production, packaging and distribution in a bid to meet the tough sustainability goals agreed between 80 industry players and the Scotch Whisky Association earlier this year.
Elaborating on the pioneering sustainability strategy introduced in 2009, the SWA's revised strategy of January 2021 includes targets such as:
The industry must reach net-zero carbon emissions from its own operations by 2040 – five years ahead of the Scottish Government's target and 10 years before the UK Government's target;
All new packaging to be reusable, recyclable, and compostable by 2025;
The industry must make more efficient use of water with all distillers in a "responsible" range of water-use by 2025;
Member firms must play a more active role in the conservation and restoration of Scotland's peatlands.
"Much progress has been made over the past decade," says SWA strategy director Graeme Littlejohn.
"But the industry recognises it needs to go a bit further and a bit faster given the new science that is coming through about the climate crisis."

Littlejohn points out that the UK government is lending a hand, with an £8.9 million Green Distilleries Fund – launched earlier this year – to help selected distillers cut CO2 emissions on a path to net zero.
"We are entering an era that calls for bold action, radical change and innovative thinking," said Jean-Christophe Coutures, then Chivas Brothers' chief executive, in a call to arms in 2019.
At its Dalmunach distillery, which opened on Speyside in 2015, the French-owned distiller has pioneered new technologies, including energy-efficient wash and spirit stills which employ heat recovery and high-efficiency condenser arrangements to reduce heat lost in the production process.
As a result, Dalmunach uses 40% less energy than a standard 10 million litre capacity distillery.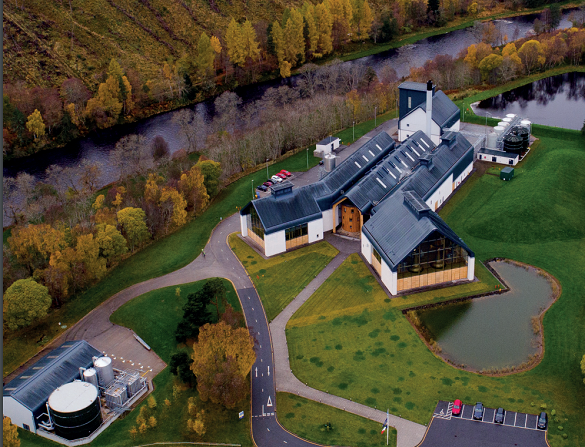 On carbon emissions, three of giant competitor Diageo's Scotch distilleries – Oban, Royal Lochnagar and Brora – have already reached net-zero status after switching to biofuels, and the company is confident its Scottish operations can reach the same target by 2030, ten years ahead of the SWA's target.
Diageo also recently applied for planning permission for a 4-MegaWatt, 12,000 panel solar-energy farm at its Leven packaging plant, and it has entered an alliance with London-based venture-management firm Pilot Lite to develop paper-based spirits bottles. It anticipates filling them with Johnnie Walker from next year, a move which will "transform the use of sustainable packaging at scale" believes Diageo's chairman Javier Ferrán.
In a similar vein, Edrington Group has signed a four-year deal with France's EDF energy giant that will enable its Macallan, Highland Park and Glenrothes distilleries, as well as its Lowland production sites, to exclusively use renewable energy from a dedicated Ayrshire wind farm.
With support from the Green Distilleries Fund, Edrington is also adapting its Highland Park distillery on Orkney to run on stored energy from renewable sources, converted into heat-on-demand.
At Bruichladdich on Islay, owners Remy Cointreau are pioneering the use of green hydrogen, using renewable electricity and water electrolysis, again with support from the Green Distilleries Fund. Bruichladdich's chief executive Douglas Taylor anticipates the approach can be adopted by other businesses on the island, whose distilleries currently burn 15 million litres of fuel oil a year.
"We're trying to pioneer something for a wider island benefit," he says.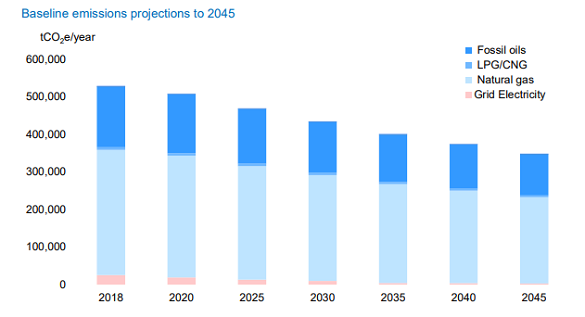 In another first, Whyte & Mackay, owned by Philippines-based Emperador, is pioneering the use of Scottish oak for the manufacture of the barrels in which Scotch is aged, and has planted 15,000 native oaks around Scotland.
Local oak is more sustainable than importing American and European oak barrels, Whyte & Mackay's master whisky maker Gregg Glass believes, whilst providing scope for a wider range of flavours. He too hopes that the initiative will be adopted industry-wide.

When it comes to low-carbon transportation, William Grant & Sons is leading the pack. The maker of Grant's, Glenfiddich and Balvenie is converting waste products and residues from production sites into an ultra-low carbon fuel which can be used to power the trucks that carry Glenfiddich and other materials around the country. And here again, the company also hopes the initiative – which resulted from a decade of research – can be scaled up across the sector.
However impressive these achievements are, not everyone is convinced that Scotch's sustainability drive – largely focused on CO2 emissions, sustainable packaging and offsetting – goes far enough.
"I'd like to see [distillers] take the bold step of ensuring their whole supply-chain is net-zero," says Mads Fischer-Moller, professor in food policy at SRUC, "investing some of their resources to help farmers move towards low carbon."
The £5.5 billion question for all these initiatives, of course, is whether the Scotch industry's consumers actually care whether the whisky they drink is sustainably produced, packaged and distributed. Given the climate change-related disasters of recent times, it seems so.
"Increasingly, consumers are looking for products which have a very clear sustainability journey," says Littlejohn at the SWA.
"They want to ensure the product they're buying can demonstrate it takes sustainability seriously, and that it is taking steps to ensure it becomes even more sustainable in the years ahead."
Front Page Image: