Friday 19/2/2021 10:02 Tom Bruce-Gardyne
Chivas: Cautiously Convivial on Scotch Whisky's 2021 Outlook
Scotch whisky's No.2 producer put an upbeat spin on its late-2020 numbers, says Tom Bruce-Gardyne for WhiskyInvestDirect, with Ballantine's, Glenlivet and Chivas looking brighter for 2021...
HOT on the heels of Diageo's results, it was the turn last week of Chivas Brothers – Scotch division at drinks giant Pernod Ricard (EPA: RI) – to reveal just how bad things got for the whisky industry in the latter half of last year.
Jean-Christophe Coutures, Chivas CEO, was having none of the gloom.
"We are cautiously optimistic," he announced, before conceding that in the six months to December the firm's global Scotch business was down 10% from a year earlier. (Like all figures quoted below that's by value, not volume.)
But it was a great deal better than the first 6 months of 2020, which fell 27%. If the whisky industry's biggest player after Diageo can maintain that trajectory, it will be back in growth by the end of the calendar year. Domestic sales in the UK are already there.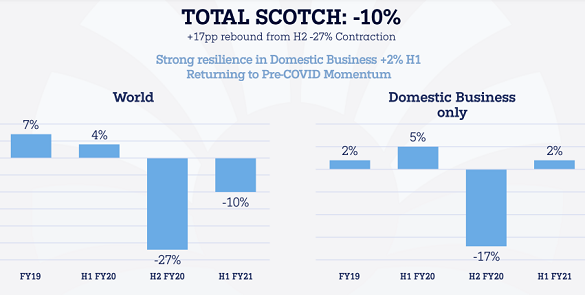 The pantomime villain in Chivas' results ending New Year's Eve (H1 2021 on its calendar) was global travel retail (GTR).
With airports all but shut, it collapsed by 64% from the last 6 months of the previous year. Strip that from the equation, and global Scotch as a whole was up 2% claimed Jean-Christophe and therefore "very much in line with where we were in 2019."
The dearth of duty-free punched a hole through Chivas Regal, the firm's flagship premium blend which relies on the channel for a quarter of its sales. This, together with losses in Japan (blamed on the country's strict lockdown), meant the brand was 16% adrift overall despite a return to growth in China and the US, plus "double digit momentum in Turkey, Russia and the UK."
The firm's top-seller is Ballantine's, the world's number two Scotch after Johnnie Walker and number one in Europe. While it shrunk 12% over the period, the value of its 'core' business (meaning younger than 12 year-old) grew 2% if you ignore GTR according to the brand's marketing director, Mathieu Deslandes.
The older expressions suffered, but Ballantine's Finest and the new Ballantine's 7, launched in September, did okay, especially in Poland and Russia. That helped make Eastern Europe the best-performing region for Chivas Bros, up 10% (June to December).
At the zoomed press conference announcing the results, we were treated to Ballantine's latest ad campaign, which features a tattoo artist, surfers, a female DJ and a shed-load of happy, young party animals.
Fizzing with energy and physical contact, it appears to have sprung from a different planet to our present locked-down isolation, even if it does reflect Pernod Ricard's mission to be 'créatures de convivialité'
Asked if that idea was having to be rejigged in the current climate, Jean-Christophe Coutures replied: "People have found new ways of getting together in a different context in a different environment. It's not the same in Spain where 'conviviality' is all about going out in the on-premise, but it's very much the case in other markets, in Eastern Europe, Asia or the US."
That last point is debatable for there's nothing convivial about the world of masks, zooms and social distancing, which suggests Pernod's mission is on hold until we are fully released from captivity. When that happens, David Haworth, MD of Pernod Ricard UK predicts a massive boom in the great British on-trade, "because I think we're all really missing the pub," he said, with feeling.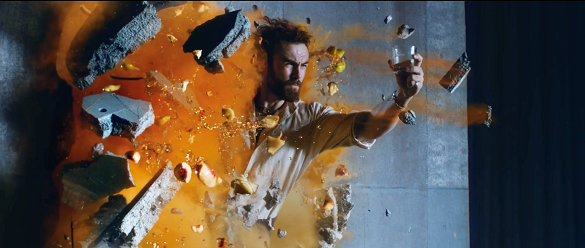 The hero of these half-year results was undoubtedly Glenlivet which managed to grow 2% despite the pandemic and the punitive 25% tariffs levied since October 2019 in America, its biggest market by far.
When I asked Jean-Cristophe to explain, he said: "The strategy of Glenlivet in the US is to be an entry-level proposition into the world of single malts, so we start with Founder's Reserve which is priced at around US$30."
This seems to be a sweet spot for attracting drinkers new to malts and those who are trading down from more expensive bottles. "The brand is quite well positioned," he explained, "because when some of our competitors had to increase their price, we have been able to continue accelerating our recruitment effort with Founder's Reserve and our new Caribbean Reserve."
Glenlivet's strength in the off-trade and its present 'Original by Tradition' campaign have clearly played a part, but perhaps the biggest factor has been the extent to which its owners have absorbed the tariff.
Its age-statement range of 12, 15 year-old and older did shrink in the States, but the brand was up 24% in Asia – albeit from a smaller base – thanks to a strong performance in Taiwan, India and China.
If Glenlivet can keep it up, and those Chivas Bros blends can be returned to growth, Jean-Christophe's cautious optimism would appear well-founded.
Throw in the prospect of a buoyant and resurgent on-trade and life really could become more convivial.
Front Page Image: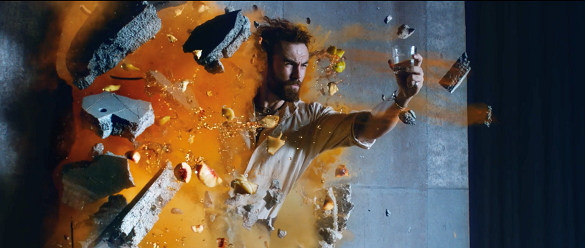 Award-winning drinks columnist and author Tom Bruce-Gardyne began his career in the wine trade, managing exports for a major Sicilian producer. Now freelance for 20 years, Tom has been a weekly columnist for The Herald and his books include The Scotch Whisky Book and most recently Scotch Whisky Treasures.
You can read more comment and analysis on the Scotch whisky industry by clicking on Whisky News.