Friday 12/2/2021 09:01 Richard Woodard
Diageo Swaps Scotch for Tequila. But Not Really
Whisky giant Diageo saw Scotch's Covid-19 crash slow but not reverse on their latest results, says Richard Woodard for WhiskyInvestDirect. So why does it still lead DGE's marketing spend?
It's TELLING that the brand featured on the front cover of Diageo's latest results presentation isn't Johnnie Walker.
Nor is it Buchanan's or The Singleton, nor any of the No.1 Scotch brand owner's other high-profile whisky brands.
Instead, Don Julio blanco Tequila gets the beauty shot treatment alongside a tempting-looking cocktail. For once, Scotch has to cede the spotlight at Diageo (LON: DGE).
You can see why in the numbers.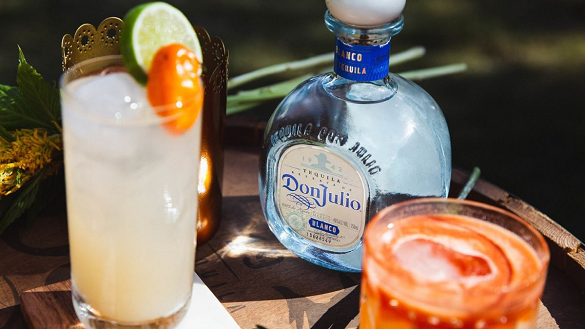 In the first half of the company's current fiscal year (FY21, meaning 30 June to 31 December 2020), Scotch continued to languish, laid low by Covid-19's near annihilation of global travel retail (aka duty free) and the on-trade (meaning bars and restaurants), while Tequila surfed the success of a highly resilient US market.
The figures tell the story. Organic net sales for Scotch were down 8% year-on-year in the 6 months to end-December. While that stemmed the previous half-year's 41% plunge, that still made Scotch the worst-performing spirits category in the company's portfolio.
Tequila sales, in contrast, were up 61% year-on-year thanks to surging growth for Don Julio and the George Clooney-founded Casamigos.
That kind of dynamism enabled Diageo to trumpet "an encouraging return to growth" overall, with the company's net sales up a modest 1% in organic terms to £6.9 billion, thanks largely to a strong six months in North America. There, the company is less reliant on bars and travel retail, because 80% of Diageo's US sales came through the off-trade even before the pandemic.
Performance from the company's Scotch brands, however, make for rather more depressing reading. Double-digit sales declines for Johnnie Walker, J&B, Old Parr and Windsor (the latter thanks to the long-term collapse of the Scotch market in South Korea). Even Buchanan's and single malts – reliable sources of growth in recent years – declined.
Diageo's latest comments express "cautious optimism" about the prospects for the next six months, but any return to normality for the on-premise will be slow and gradual. Company CEO Ivan Menezes expects that it will be "several years" before global travel retail regains the heights of 2019.
After reading and digesting all of the above, it might come as a surprise to hear that Diageo invests a disproportionate amount of cash in the marketing of Scotch. To be more precise, Scotch whisky's share of Diageo's total marketing spend is higher than its share of the company's revenues.
The No.1 whisky company clearly continues to have faith in the future of Scotch. How so?
It's partly a question of scale. Tequila's growth rates may be dizzying, but they come off a small base. The category only accounts for 7% of Diageo's revenues – versus 24% for Scotch.
In geographical terms, tequila is a one-trick show pony, with the vast majority of its business done in the margarita-swilling USA. Scotch on the other hand is everywhere, and particularly strong in emerging markets.
Emerging markets are where the glimmers of hope begin to appear. Turning back to the old BRIC markets acronym from the early 2000s, and leaving Russia aside, there are reasons to be cheerful about Scotch's direction of travel in Brazil, India and China, even during the current crisis.
If we expand Brazil to include Diageo's entire Latin America & Caribbean region, Scotch sales fell 5% during the reporting period, with Johnnie Walker, Buchanan's and Old Parr feeling the pain. But lower-priced blends such as Black & White and White Horse grew, in line with Diageo's strategy of capturing downtrading consumers with entry-level products.
Better to keep people buying cheaper Scotch while awaiting better times, rather than seeing them leave the category altogether.
In Greater China, meanwhile, sales were up 15% thanks to the success of baijiu and high-end Scotch. Five years ago, China accounted for 2% of Diageo's sales; now it's 5%, with power to add.
India too outperformed expectations with a 1% rise in sales – highly creditable, given the impact of Covid and the country's economic woes.
The star performers in what the IMF says will now be Asia's fastest rebounding economy? Scotch in general, and Johnnie Walker in particular.
Reviewing 2020 then, the trick in a crisis is not to panic and fall prey to knee-jerk reactions with no regard for underlying trends. Switching your emphasis to retail and e-commerce during the pandemic is strategically sensible; shifting your marketing dollars away from the dominant source of your long-term growth would be short-termism at its worst.
Diageo's Scotch brands are suffering because they derive a disproportionate slice of their sales from global travel retail and emerging economies – two-thirds in fiscal-year 2019. But CEOs like Menezes – for all the pressures from the City and the analysts' criticism – have to lift their eyes to the horizon and look beyond the immediate to future sources of stable, sustainable growth. And for DGE, Scotch is still the single most important strand of that strategy.
If brands were people, it's unlikely that Johnnie Walker would resent or envy Don Julio's moment in the spotlight.
When you're 200 years old, enjoy annual sales near 15 million cases, and are an aspirational badge of status the world over, you can probably afford to be magnanimous.
After all, history suggests that your time will come again.
Richard Woodard has been writing about spirits and wine for 20 years, editing and contributing to a number of magazines and websites, including Decanter, The Spirits Business, just-drinks.com and Club Oenologique. He was also one of the founding editors of Scotchwhisky.com.