Friday 3/6/2022 09:00 Ian Fraser
Scotch & The Big Mac
Scotch whisky's most valuable single malt divides opinions - Macallan continues to smash auction records and retain its aura of rarity despite its huge scale. It is a neat trick, but how long can it last, wonders Ian Fraser for WhiskyInvestDirect…
THE Macallan, distilled near Craigellachie on the banks of the Spey since 1824, is a 'sellout'.
So say many whisky geeks and traditionalists, who accuse the brand of losing sight of its roots, of becoming too pricey, of abandoning its pre-2004 commitment to being exclusively sherry-matured, and of shifting the focus to no-age-statement (NAS) spirit for expedient reasons.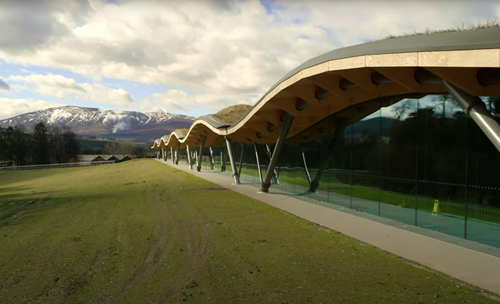 The brand's owner Edrington Group did little to dispel such "Emperor's new clothes" allegations when it launched 'The Reach' – designer bottles of 81 year old Macallan presented in hand-blown glass decanters cradled in a bronze sculpture of three hands and priced at $125,000 (£100,000) each.
This followed the brand's 'Make the Call' ad of November 2018 – which features a shirtless man jumping off a mountain-top, flailing helplessly in the air before spouting wings and flying to safety – which was much mocked online before being banned by the Advertising Standards Authority for promoting "risky behaviour" after just six complaints, apparently.
Then there is Macallan's global partnership with Bentley Motors, supposedly built around the two companies' pursuit of a sustainable future. But critics wonder whether teaming up with Volkswagen-owned Bentley – whose Continental GT 6-litre manages just 13.6 mpg – is the best way to vaunt one's green credentials.
However, despite these missteps and all the barbs, it's impossible to deny Macallan is doing something right. The single malt broke through the one million cases a year barrier in 2017 and today is the world's biggest-selling single malt Scotch whisky by value, and third biggest by volume.
As with all Scotch whisky brands, sales took a knock in 2020-21 because of restrictions on travel and the on-trade during the coronavirus pandemic, but they are expected to have bounced back in the year to 31 March 2022. Not least because Asia's burgeoning middle classes are unlikely to have lost their thirst for a brand that has relentlessly focussed on positioning itself as a high-end luxury brand, up there with the likes of Cartier and Hermes, as opposed to just a whisky.
Writing in the 2021 annual report The Macallan Distillers' chairman and MD Igor Boyadjian said the brand had displayed "healthy underlying performance" and "we remain focused on establishing The Macallan as the world's ultimate spirit."
In production terms, Macallan stands out because of its continued use of small stills (even in the new state-of-the-art £140 million distillery, which some unkind souls have likened to the 'Teletubby house'), each less than four metres tall, and with a capacity of no more than 3,900 litres. These enable the company to produce a consistently robust and characterful new make which lends itself to long maturation, whether in sherry casks or not.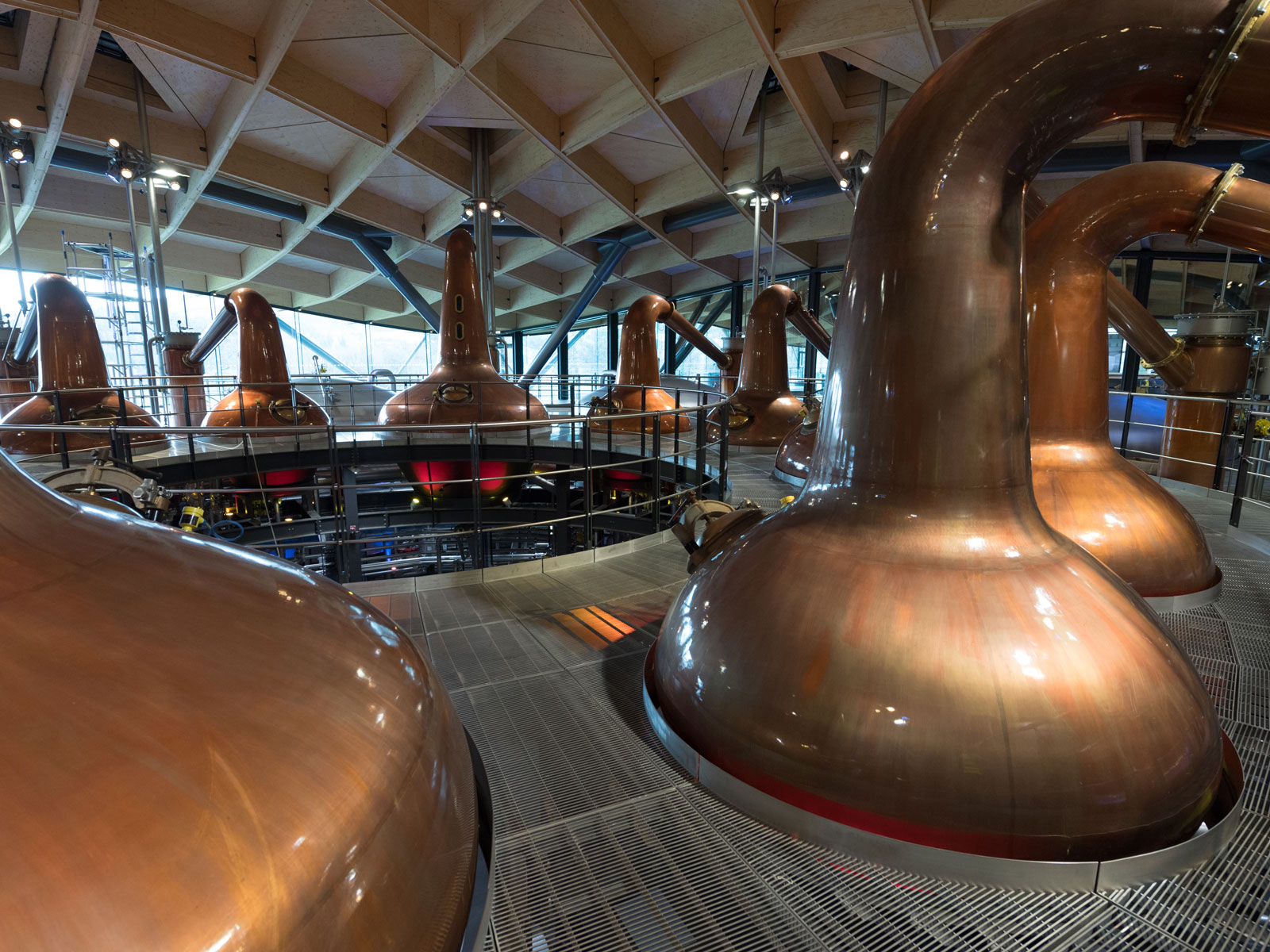 Another huge strength is Macallan's cachet with collectors.
Bottles dating back to 1926 have been selling for as much as $1.9 million (£1.5 million) at auctions around the world and a phenomenal £43 of every £100 spent on single malt in UK auctions is today spent on Macallan, according to research by Rare Whisky 101. This is claimed to give a 'halo effect' to the wider brand, allowing it to retail for more.
Ownership also plays a part. The Macallan Distillers Ltd has multiple owners, with Glasgow-based Edrington Group owning a majority stake, and both Osaka-based Suntory and William Grant & Sons owning significant minority shares.
The board of directors includes Frenchman Igor Boyadjian (48), two Japanese non-executives – Satoru Shimizu (49) and Kengo Torii (54), both of whom are senior executives at Suntory – and two Brits – finance director Jeremy Chaplin (51) and non-executive John McLaren (70), a former Barings banker and novelist.
Ken Grier, Macallan's former creative director who retired four years ago, told LifeStyleAsia "As a result [of a diverse management and employee base], we've been braver, ballsier and able to go further and faster than anyone."
The fact that all three Macallan Distillers' shareholders are privately-owned firms also makes long-term thinking and strategic investment possible: some ex-senior insiders question whether a stockmarket-listed company could have pressed ahead with the £140m starchitect-designed distillery as quickly, if at all, and believe having three pairs of eyes examining plans is a big positive.
In a report last year Rare Whisky 101's Andy Simpson and David Robertson warned, however, that the proliferation of no age statement Macallans is bamboozling consumers and investors, and denting investment returns.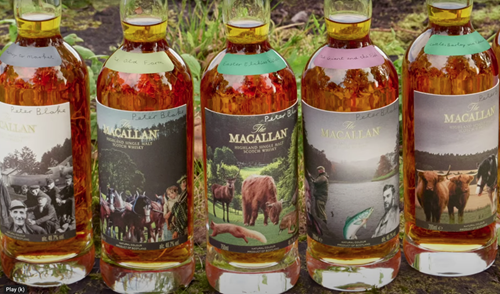 New variants, releases, and ranges launched in recent years have included Anecdotes of Ages, Harmony Collection, Editions 1-6, Macallan Estate, Masters of Photography, Red Collection, Tales of The Macallan, over and above 50-60-year-old Macallan in Lalique crystal decanters and "Fine and Rare" vintages from 1926 to 1989.
"We're just not sure consumers will understand the ranges of NAS Macallan rising from £45 to £6,250 across 12 different releases," wrote Simpson.
The "Distil Your World New York Edition", launched with a fancy Let's Distil New York video in April, is the latest example. Initially priced at $4,300 each, bottles are already fetching $22,200 on the secondary market.
Jenny Karlsson, marketing communications manager at Adelphi Distillery, declined to comment on the Macallan's recent trajectory but said "one good thing they're doing is opening up markets for smaller independent players which don't have their reach."
Another potential risk lies in China, one of Macallan's biggest markets. Speaking at The Atlantic Council on 13 April, US Treasury Secretary Janet Yellen warned of a trend towards "friend-shoring" – where western nations only trade with other friendly nations with similar values – and that we could entering a "bipolar" world, in which China would be cut out of supply chains and global trade.
Note: This article was corrected on Thursday 9 May 2022. The ownership of Macallan Distillers Limited was updated to reflect the fact that Edrington Group owns a majority stake.
Front Page Image: