Friday 18/2/2022 11:02 Tom Bruce-Gardyne
A Toast to Pre-Pandemic Scotch
It's been a crazy two years, but Pernod Ricard's Scotch whisky business is finally back to, or beyond, its pre-Covid levels in its latest set of results, reports Tom Bruce-Gardyne for WhiskyInvestDirect…
FOLLOWING on the heels of Diageo, Pernod Ricard released its latest half year results last week, and like its arch-rival it appears to be powering its way out of the pandemic towards the sunlit uplands of 2019.
With "record-breaking" reported sales of €6 billion for the six months to last December, up by a fifth on the same period in 2020, CEO Alex Ricard looked more than half-way contented.
"All our must-win markets are growing very strongly with the US up 9%, China up 14%, India up 19% and travel retail up 38%," he declared, though this is compared to the same period in 2020 which ended with a second big Covid wave, more deadly than the first. This caused huge disruption to the on-trade and continued empty skies.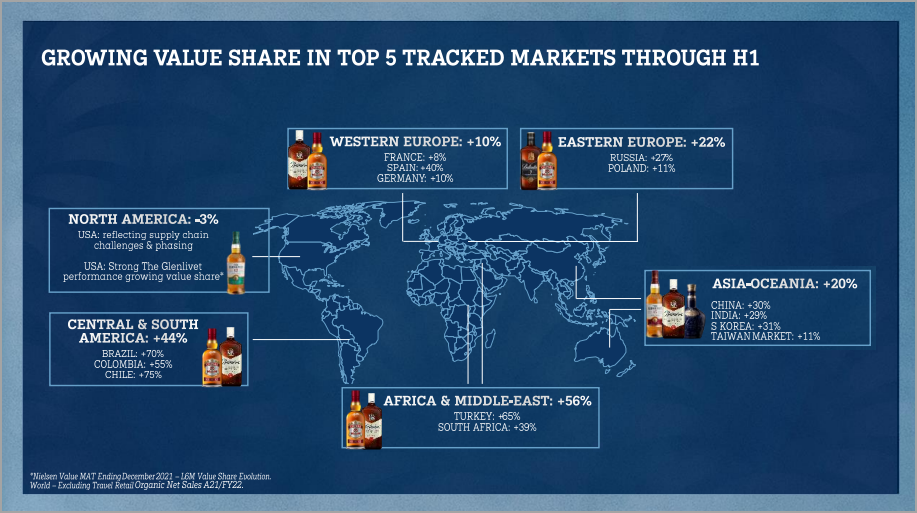 As Alex Ricard was happy to concede: "Global travel retail is still 40% down [on 2019], but it's only 40%." Inevitably this has been a drag on the firm's big Scotch blends, notably Chivas Regal whose 23% bounce in these results effectively brought it back to square one, up just 1% on 2019 when reported sales were running at 4.4 million cases.
Its recovery was thanks to its new "future-forward" transformation strategy, apparently. In truth, one suspects we'll have to wait until next year to see if it has really been transformed.
Scotch sits next to gin in Pernod's drinks cupboard, and both are run by the firm's London-based subsidiary – Chivas Bros, which also handles the UK business. By value, Chivas Bros sales were 10% up on pre-Covid levels, according to CEO Jean-Etienne Gourgues who went on to give a regional breakdown of the past six months.
He described Asia-Oceania as "a powerhouse" with sales growing by a fifth in value, driven by China (+30%) and India (+29%).
On the other side of the world, sales in Brazil surged 70% on the back of 60% growth for the previous 12 months, while Chile and Colombia also performed well. Other highlights included Turkey (+65%), Spain (+40%) and Eastern Europe (+22%), driven by Russia and Poland.
By contrast, Chivas Bros suffered a 3% fall in North America. You wonder how that compares to Diageo whose 13% rise in the region was largely thanks to the phenomenal growth of its Don Julio and Casamigos tequilas. Gourgues said it was "mostly related to supply chain challenges and phasing between shipments and depletions," before claiming that in the US "we are beating the market for Scotch whisky, and in particular we had a strong performance in value share for Glenlivet."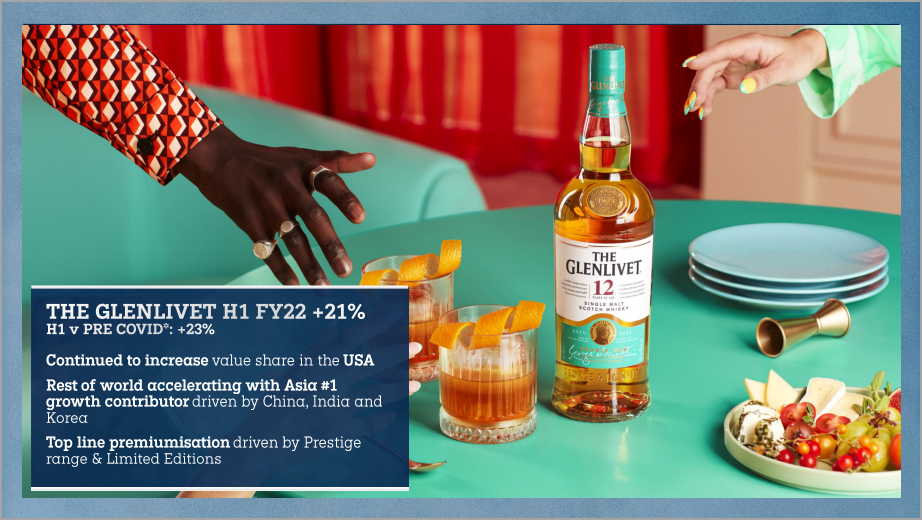 The world's top-selling malt continues to be a star performer with sales up 23% in value on 2019, and while it has always been popular in America it has now become a truly global brand with a fast-growing fanbase in China, India and Korea.
Meanwhile its super-deluxe blended stablemate – Royal Salute has been on the same rollercoaster ride as Chivas Regal to end more-or-less where it started pre-Covid, while Ballantine's, the company's top-selling Scotch brand is up 12% on 2019 when reported sales were 7.7m cases.
As more slides came and went during the results press conference, one caught the eye. It concerned the UK Government's attempts to secure trade deals with countries like India, where "cutting 150% tariff would more than double UK whisky exports" it was stated in bold print. Fellow whisky-writer Richard Woodard leapt in with a question on how it might play out in the balance of blends, malts and Indian whiskies in which Pernod has a big stake.
"If [the tariff] is partially lifted, it will need to go from the State level to the provincial level, because India's a very provincially-regulated country," Gourgues replied. "I think it will benefit, first and foremost, blended whiskies, and if we can move into a real reduction of the tariff, it will also make high-end whiskies much more affordable. We already see a big consumption of prestige whiskies by Indian travellers in travel retail, so it gives us an insight into what could happen."
During the slideshow there was plenty of talk about the boom in spirit-based RTDs, [Ready-to-drink], but nothing about their potential in blended Scotch.
"I do believe there's a role for RTDs to recruit younger consumers in different types of occasions," said Gourgues when asked, and he promised "there will be more to come in the months ahead." Who knows, perhaps we'll be toasting Pernod's full year results in September with a chilled, pre-mixed Ballantine's in a can?
Front Page Image: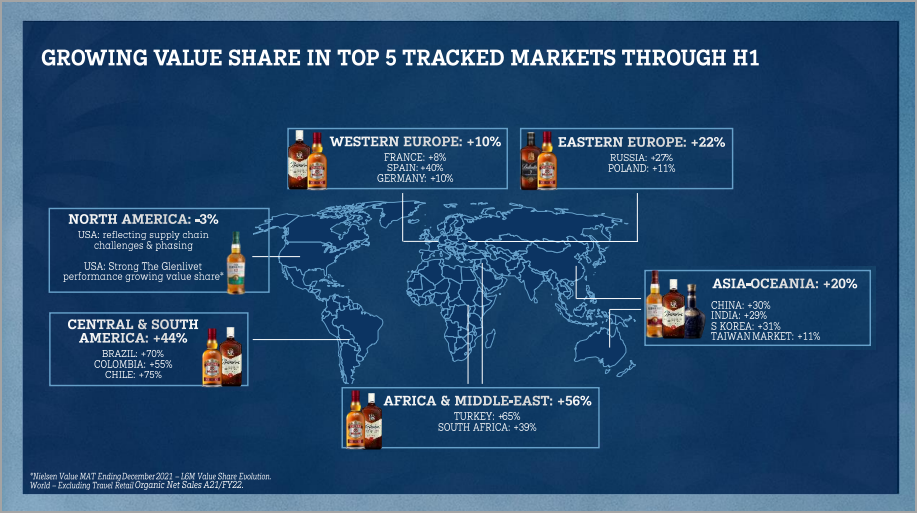 Award-winning drinks columnist and author Tom Bruce-Gardyne began his career in the wine trade, managing exports for a major Sicilian producer. Now freelance for 20 years, Tom has been a weekly columnist for The Herald and his books include The Scotch Whisky Book and most recently Scotch Whisky Treasures.
You can read more comment and analysis on the Scotch whisky industry by clicking on Whisky News.