Friday 11/8/2023 09:00 Ian Fraser
A Postcard from Australia
Despite ferocious competition from American, Irish and homegrown whiskies, Scotch whisky shipments to Australia have proved remarkably strong. But as in Britain, the Australian authorities appear determined to ruin the party through taxation, reports Ian Fraser…
Scotch whisky is on a roll 'down under'. Exports to Australia surged to £157 million in 2022 (up 42% on 2021), placing it in twelfth place among export markets despite having a population of only 25.7 million.
The value of exports to the 'Lucky Country' has risen by over 100% in the decade from £78.6m in 2012, with volume exports rising 42%, from 26.5m 70cl bottles to 37.5m, over the same period. Australia also benefits from having the fourth highest per capita consumption of whisk(e)y in the world, with each adult drinking an average of 2.83 litres of whisky a year, with only Ireland, USA and France having higher rates of consumption.
"Dark spirits across the board have been growing strongly for some time – with whisky leading from the front," says Matt Redin, marketing manager at Vintage House Wine & Spirits, which represents Glenfarclas.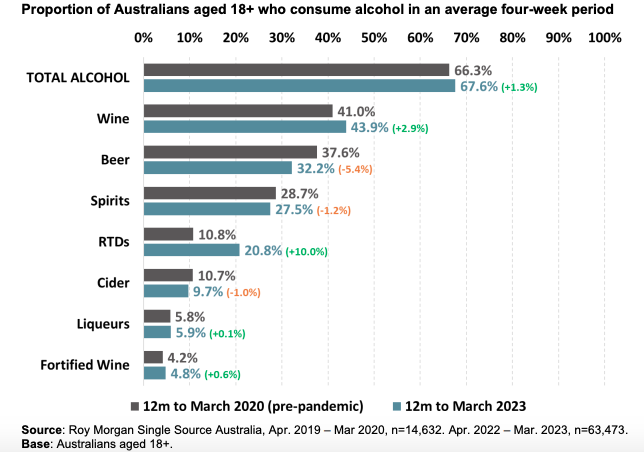 "There's a fascination in Australia for aged spirits as people move on from fresh gins and simple vodkas," says Redin. "They're looking for more depth and intrigue in what they're consuming. There has also been a sizeable shift towards more premium spirits which certainly helps to boost the value of what is sent to Australia."
"A number of factors are driving the growth of Scotch whisky in Australia," says Simon McGoram, regional sales manager at Atom Brands, which distributes boutique whiskies down under.
"We can point to premiumisation, increased engagement from brands, rising consumer knowledge and younger, more diverse demographics enjoying the spirit. We also shouldn't underplay the important role greater female representation in whisky has played in growing the category."
Scotch Whisky Association head of Asia-Pacific trade Emily Roads, says Scotch "has been the dominant spirits category in the Australian market for three decades, with single malts accounting for around one-third of that. We're seeing increasing interest from Australian consumers in the provenance, heritage and high quality that Scotch whisky is renowned for, and that's playing out in the numbers."
The country's 5% tariff on Scotch imports was removed as part of the UK-Australia free trade agreement (FTA) when this took effect on 31 May, but local experts doubt this will make much of a difference to trade, at least in the short term. McGoram says: "The Australian dollar has been declining against the pound for the past 12 months, and most companies will simply absorb this to remain competitive in an increasingly price-conscious market."
Matt Redin believes the FTA won't have had much impact because "most has already been eaten up by the increase in excise" – this a reference to the latest duty hike, which saw the tax rise to AU$100.05 (£51) per litre of alcohol on 1 August.
This duty increase gave the country the third-highest rate in the world. "This is effectively a double whammy on spirits," said Spirits & Cocktails chief executive Greg Holland. "This tax is cannibalising our industry."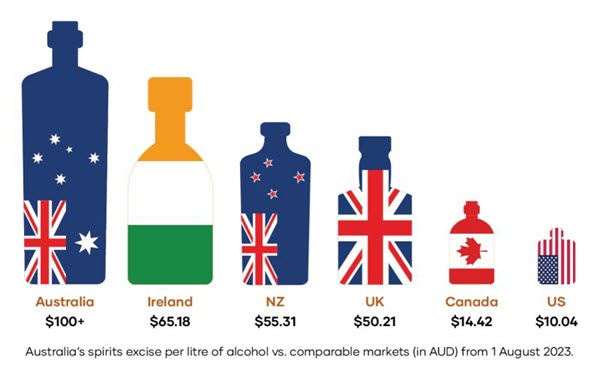 Longer term, Roads believes the FTA will bring benefits including "strengthening the existing long-term relationship between the whisky industries in both countries, as well as levelling the playing field… Our analysis suggests we could see further export growth in the Australian market of between 30% and 40% in coming years."
According to Statista, Johnnie Walker remains the biggest-selling brand, with 16% of Australia's total whisky market. Chivas Regal (4%) and Bell's (2%) were next. Among single malts, William Grant & Sons' Glenfiddich is top dog, with a 1.6% share, followed by Lagavulin, Laphroaig and Talisker (each with 1%) and Glenmorangie. American whiskeys such as Jack Daniels (11%) and Jim Beam (4%), Canadian whisky Collingwood (6%) and Irish whisky Jameson (3%) also have a strong presence.
Recent stand-out campaigns 'down under' include Glenlivet's attempt to 'shatter stereotypes' with a campaign featuring actress Anna Paquin. In one 60-second commercial the Oscar winner declares "Life's too damn short to follow the rules… Whisky doesn't care what's between your legs".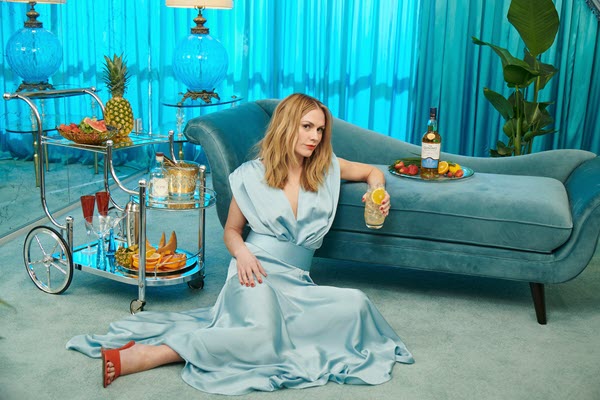 In a different vein, Macallan recently launched a prestigious Macallan Room at the Emirates One&Only Wolgan Valley resort in the Blue Mountains of New South Wales, flying in guests by helicopter before treating them to a five-course whisky-pairing dinner for the launch in June. "I felt like I'd stumbled onto the set of a James Bond movie," said Matthew Melhuish.
Since Bill Lark overturned the 1838 ban on distilling whisky in Tasmania in 1992, scores of other whisky distilleries have sprung up around Australia, and more than 140 are already producing whisky. Brands such as Archie Rose, Bakery Hill, Lark, Morris, Ned, Starward and Sullivan's Cove have built strong followings and won international acclaim. But is this good or bad news for Scotch?
Scotch Malt Whisky Society Australia chair Andrew Derbidge believes it's a threat. Writing in Whisky & Wisdom he said: "With an increasingly large number of local, bigger distilleries releasing quality [Australian] whisky at competitive prices, the Scotch brands should be wary."
Redin disagrees, saying: "I don't think Aussie whiskies will be a threat to Scotch. The distilleries are small (though growing) and typically don't have the financial resources to expand quickly and take on other markets. The focus for Australia needs to be on quality over quantity."
McGoram believes the local whiskies' cachet and success is fuelling the whole sector. "It has been instrumental in growing the love and understanding of Scotch whisky on these shores."
A bigger threat to Scotch's position may come from the rise of ready-to-drink products. According to Roy Morgan data 20.8% of adults drink RTDs regularly, up from 10.8% in 2019-20. That's almost as high as the 27.5% of Australians who drink spirits.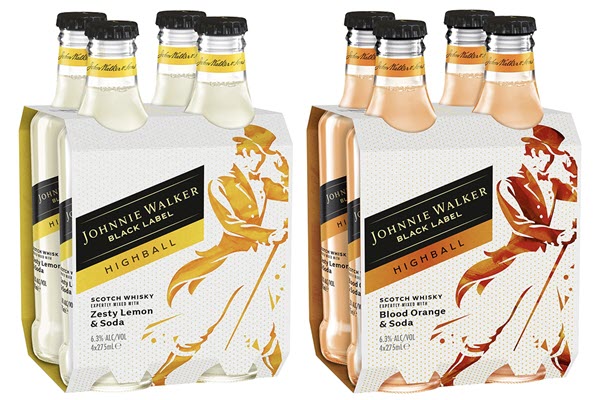 If Scotch fails to engage with the new formats – and it's fair to say Diageo has already done so, with the launch of Johnnie & Cola in the early 2000s, and a pair of Black Label Highballs featuring Blood Orange and Lemon in 2021 – it could risk losing out to rivals such as Diageo-owned Bundaberg rum (known locally as "Bundy"), Jack Daniels and Jim Beam bourbon, which already have strong RTD propositions.
Redin says the pandemic accelerated a shift towards the off-trade and towards more premium products for at-home consumption. "We're definitely on a path towards 'drink less, better'. With more money in their pockets from not going out and staying at home, consumers have traded up."
But McGoram warns that inflation at 6% could counter this trend. "Australia has always been an off-premise dominated market, particularly in Scotch whisky. While Covid-19 accelerated that, things have now largely returned to normal, we can't ignore the fact that inflationary pressures are driving consumers to reduce their spending and to focus more on value."
Front Page Image: