Friday 20/8/2021 09:45 Tom Bruce-Gardyne
Whisky in Australia: What Next for Scotch's Covid-Beating Exports?
Scotch whisky is Australia's No.1 spirit, and Down Under it avoided the Covid Crash hitting the drink's other major markets. What next, asks Tom Bruce-Gardyne for WhiskyInvestDirect...
UNTIL a few months ago there seemed every reason to be jealous of people living in Australia.
Australians appeared to be living pretty much pre-pandemic lives behind the country's firmly closed borders. Australia's GDP grew 1.1% in the year to March, while most major economies shrank, notably the UK by almost 9%. And unable to travel, the country's middle classes saved and spent money at home instead, including on affordable luxuries like Scotch whisky.
"It's doing really well," says Colin Rochester, general manager of William Grant & Sons Australia. "Scotch is the largest spirits category but it hasn't always been number one.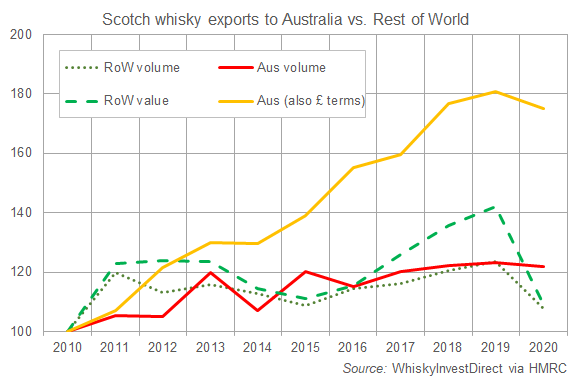 "American whiskey is a big segment here," Colins explains, "and if you add bourbon, Irish and Japanese whiskey, and the burgeoning local Australian whisky all together, that's a very formidable piece of competition.
"But Scotch is holding its own."
In 2020, Australia was the drink's eighth most valuable foreign market, with shipments of bottled blends up 3% in volume while single malts jumped 18%.
Together that capped the impact of Covid to a 3% drop in overall Scotch exports to Australia last year by value, compared to the 23% fall experienced elsewhere in 2020.
That strength has continued in 2021, according to data compiled by the Scotch Whisky Association. In the first six months of this year the value of Scotch exports to Australia grew by just over 20% on the same period in 2020, though they were still down by 7% on 2019.
Those figures were better than many, including Germany and the States, which are both down by a third on their pre-Covid high. But thanks to a surge in India, Mexico and above all China which is up by a staggering 120% in value on the first half of 2019, Australia has been squeezed out of the top ten so far this year.
"The market is predominantly dark spirits, predominantly off-trade and predominantly mixed with Coke or Dry [ginger ale]. That's changed over the years, but only slightly," says Colin.
The trend was driven by Jim Beam bourbon in the 1990s and has since spilled into RTDs (ready-to-drink) – an endlessly innovative category that Australians can't seem to get enough of. "To the consumer, it's 'my brand in a format I can take to the beach, be in the park, be in the back yard or put in the golf buggy for a game of golf'," Colin explains.
Australia led the way with canned and bottled premixed dark spirits in the early 2000s, so it was an obvious launchpad for Johnnie Walker Black Label's first venture into this world in May. There's a choice of Johnnie & Blood Orange Highball or one featuring 'zesty lemon', and with a hefty recommended price of AU$26.99 (£14.21) for a four-pack of 275ml bottles, it's a clear attempt to push RTDs upmarket. And to establish a presence before the wave of hard seltzers really hits the country this summer.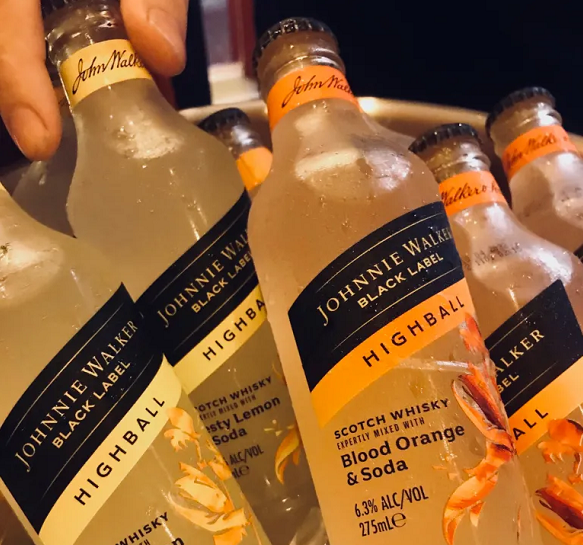 Meanwhile Johnnie Walker Red Label is the leading Scotch brand in Australia and offers Johnnie & Cola and Johnnie & Ginger in the premix category, where it sits "a very, very distant second to the likes of Jack Daniel's and Jim Beam," says Colin.
"William Grant's hasn't gone for RTDs in Scotch, we're more into age statements and the luxury agenda."
The firm's single malts, led by the country's top-selling brand Glenfiddich, are clearly benefitting from the increased spending power. According to Rob Hirst, chairman of Tucker Seabrook – one of the country's top wines & spirits wholesalers – "Australians were spending about AU$60 billion a year overseas, as we're the greatest travellers there are. Now that they're not travelling, they want to live as though they were. They're going to restaurants and saying 'I'll have the best'.
"People don't seem to have any hesitation with AU$70, $80 or $90 [£36-£48] bottles of gin, vodka, whisky or brandy. And you're seeing the success of whisky clubs here, with people getting together and buying their own cask."
As Rob says 'that's not a cheap experience", but then nothing's that cheap when it comes to booze with Australia boasting the world's third highest sin tax behind Norway and Iceland. At present a 70cl bottle of Scotch at the standard 40% alcohol by volume pays AU$24.55 in tax, some £12.93 compared to £8.05 in the UK.
A crumb of relief is being offered in Britain's post-Brexit trade deal with Australia which should eliminate the tariff charged on Scotch whisky imports. "It's 5%, and we'll take any tax break we can," says Colin Rochester.
"Is it going to be that material? No, it won't, but it will allow us to compete with bourbon even more because Australia enjoys free trade with America."
At present much of the country is back in strict lockdown as it battles with the latest Covid-19 outbreak which may tip the country into recession. Australians will continue drinking at home, but the prospects for the on-trade are grim since the restrictions won't be fully lifted until 70% of the population is fully jabbed.
As of last week, that figure stood at just 20%, which makes life Down Under a little less appealing right now.
Front Page Image: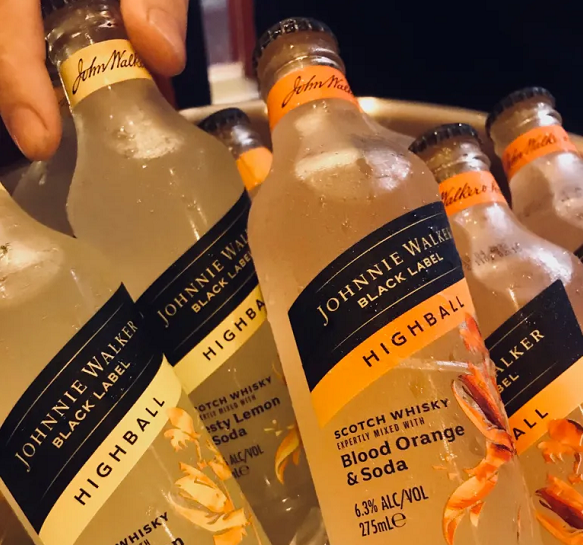 Award-winning drinks columnist and author Tom Bruce-Gardyne began his career in the wine trade, managing exports for a major Sicilian producer. Now freelance for 20 years, Tom has been a weekly columnist for The Herald and his books include The Scotch Whisky Book and most recently Scotch Whisky Treasures.
You can read more comment and analysis on the Scotch whisky industry by clicking on Whisky News.