Monday 16/10/2017 16:26 Rupert Patrick
Reviving Trade Mark "X", Part 3: Closed distilleries
How to find and acquire rare stock from long-closed stills...?
JAMES EADIE's entreprenurial journey, starting at the age of fourteen when he left both school and Scotland, had captivated me, writes Rupert Patrick, CEO of both WhiskyInvestDirect and James Eadie.
The brand he built, Trade Mark "X", was highly rated by the 1880s, and his whisky business was clearly a significant particpant in that first Golden Age of Scotch. His whisky had even been highly praised by the late 19th Century's leading wine, beer and spirits writer, Alfred Barnard.
Wanting to revive Trade Mark "X" for today's whisky fans, I had struggled to source all the malts and grains used in the blend all those years ago. But abandoning the phone, I found face-to-face meetings proved more successful.
I could put old Eadie whisky and beer bottles on the table. I had 130-year old letters from Eadie's offices to various landlords and publicans. I had modern spreadsheets showing the make up of the blend. But it was the whisky ledgers that did the trick.
There have been many attempts at reviving old whisky brands, but few of them have the authenticity and integrity required to be taken seriously. What we were showing to these influential whisky directors and master blenders was tangible and verifiable whisky history. That changed the tone of the discussions.
Before it had been 'no' when I asked about stock. Now it was turning to 'maybe'. It didn't need a salesman's intuition to know things were looking up.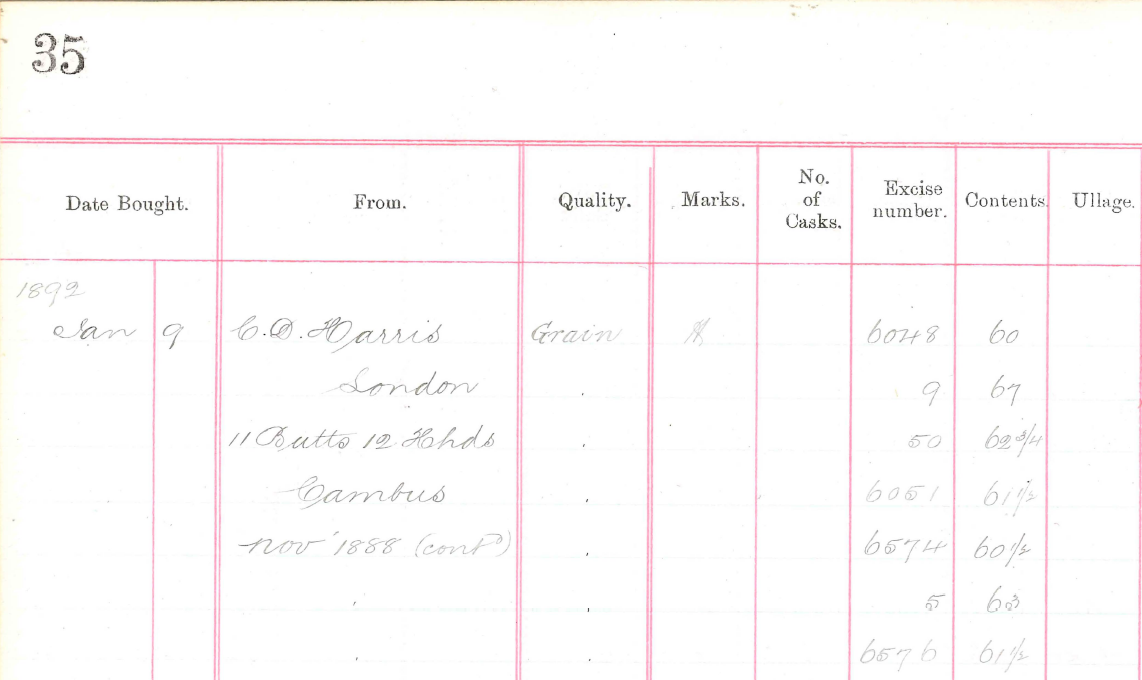 The bigger whisky companies, who have their own fascinating archives, saw what we were attempting to do and recognised that this was a small, but perhaps important story about the early days of the art of blending. Today's stock managers may never have heard of Eadie's Trade Mark "X", but they could see that this was an expertly-crafted blend.
Importantly, I could also show them how the consitituent whiskies had remained the same over decades, with my ancestor buying from trusted suppliers, building long-term and stable relationships with distillers. That's how the trade operated then and how it still works today.
Six months or so after nearly falling at the first hurdle, I had managed to sign purchase orders for the majority of the stocks needed to revive the blend. It wasn't simply a matter of finding whisky from the list of distilleries in the ledgers. It's also been about finding the right age, the right wood type (sherry, first fill, re-fill) and, of course, the right flavour.
Diageo had been a key 'win' for me, and without them I wouldn't have got past first base. The deal with them proved just how co-operative the Scotch industry can be, how big and small can work together. But Diageo couldn't supply the old Cambus, the Littlemill, Glendronach, Aberlour or some of the other malts I needed.
Step forward another ex-employer of mine, Beam Suntory. They were also very supportive, and a meeting there – in a small office adjacent to their impressive blending room – produced a great result. Two more of the tricky whiskies were in the bag, and both of them in the exact wood I was looking for, first fill bourbon and sherry Butts.
Cambus grain still presented a problem however, because that distillery closed down in 1993. It was once the largest producer of grain whisky in Scotland and was always highly rated by the blenders. It was clear that finding 24-year-old grain, or older, was going to be hard and I knew that I had to work every possible avenue. And after weeks of trying, I struck lucky when one of the few remaining whisky brokers told me he had access to some matured in sherry butts.
Brokers are secretive and discrete, always keen not to reveal their sources, but that didn't matter. What mattered to me was ensuring the quality of the spirit. If the samples were good then I knew I'd have to buy the stock, almost regardless of the price. My negotiating position was weak, so it was not only a huge relief to receive the samples – to know that I was now down to only one whisky left to find – but it was also an unexpected and very interesting discovery.
I'd never tasted grain whisky like this before. Decades spent in first-class sherry butts had transformed the grain into a superb whisky in its own right, never mind a brilliant constituent for a premium blend. Now I only had to track down the malt from Littlemill, closed in 1994.
Littlemill stock was already scarce before collectors started buying up the limited amount of what remained on the market. Bottles from the early 1990 vintages today command prices between £200 and £2,000. I rang all the brokers but the answer was the same – Littlemill hadn't been on their books for years. I was almost sure not to find it anywhere. And, they added, if I did find some, they'd be interested in buying it from me!
I haven't told them yet, but I did find some stock. No, I'm not about to reveal my source! But I'm delighted to say that the quality of the Littlemill is good, even though it cost me a small fortune.
If I need more in future I doubt it will be cheaper. But that doesn't matter much. What's more important was that I now had everything I needed to revive Eadie's Trade Mark "X".
Rupert Patrick is co-founder and chief executive of WhiskyInvestDirect, the online market enabling private investors to buy and sell Scotch whisky as it matures in barrel.
You can read more comment and analysis on the Scotch whisky industry by clicking on Whisky News.