Friday 30/4/2021 09:11 Tom Bruce-Gardyne
La-La or Wonderful? Scotch Whisky's Latest Big Adverts
Scotch whisky's biggest names have unveiled glossy new ads for 2021's post-Covid reopening. The aim? Keep recruiting new drinkers, says Tom Bruce-Gardyne for WhiskyInvestDirect...
The JOB of recruiting new drinkers to Scotch whisky is one that never ends.
In his years working in the industry before founding WhiskyInvestDirect, Rupert Patrick recalls "the smartest guy in Beam [now Beam Suntory] I ever listened to, used to say 'You've got to keep bringing people in, because it's a leaky bucket.
"'If you don't recruit 20 to 30-year olds, you've got nothing'."
Elliot Wilson, strategy director at the drinks' marketing agency, The Cabinet, describes recruitment as the category's "Achilles' heel, certainly in America, where Bourbon has had such a great run of it and Scotch is buckling a bit under the pressure."
This is a priority for brands like Johnnie Walker, Dewar's, Genlivet, Glenfiddich and Glenmorangie, who have all released glossy new advertising campaigns for 2021.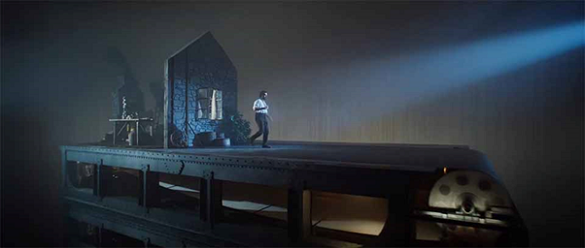 Advertising, now known as 'content', is put out there to be shared as widely as possible on social media platforms. Whether it can ever match the impact of those old big brand booze commercials on TV is debatable. "There's been a splintering of the market and a splintering of the platforms where they're seen," says Mark Mackenzie, director of the video content marketing company, Coast.
He knows Johnnie Walker well from working on over fifty 'Personal Journeys' – short documentaries of ordinary folk doing extraordinary things – that accompanied the lavish, star-studded ads for 'Keep Walking' that began with Harvey Keitel in 2006. This January saw the release of the brand's latest blockbuster with astronauts returning to mother earth as a metaphor for our collective emergence from Covid isolation.
Having seen it, Mark says: "There's a consistency of production values across Johnnie Walker advertising which I think has real merit. It never ever feels anything other than a luxury brand."
Seizing on the zeitgeist or some universal truth has also been a consistent theme for the brand, which has been banging on about progress – aka 'Keep Walking' – for years.
Elliot Wilson at The Cabinet has no issue with the insight, just the execution of this new offering with its "Elon Musk meets Jeff Bezos vision of the future," as he puts it.
For all its computer-generated wizardry, "it's nearly impossible nowadays to wow people visually," he says, "because we're just overrun with visual stimuli." But he concedes the target audience is probably youthful Asian consumers more than jaded Brits.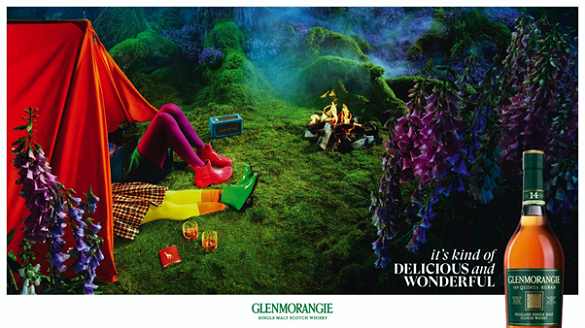 Glenmorangie's colourful new ad – 'It's kind of delicious and wonderful' also leans towards Asia.
"Inspired by the brand's signature orange colour, we decided to use colour as a metaphor to open up the whisky's world," explained Alexander Kalchev, chief creative at DDP Paris, the agency responsible. Mark Mackenzie sites the musical 'La-la Land' as another possible inspiration.
In its new Where Next? campaign Glenfiddich's stag appears without antlers. The idea behind it according to global brand director Claudia Falcone "is that a stag is proud and masterful but must embrace his own vulnerability with the annual loss of its antlers before it grows stronger still." Whether it will recruit new whisky drinkers remains to be seen.
Meanwhile Glenlivet has taken its founder, George Smith (something of a bearded hipster in this instance) time-travelling from 1820's Speyside to a modern bar in its Original by Tradition campaign. He gets there on a giant treadmill, which was apparently found on an abandoned Slovenian filmset by those making the ad.
Back among blends, Dewar's new Stay Curious campaign features an American footballer plucked from the bench, and transported to play in goal for Scotland in a cup final. "The brand's keen interest and investment into bringing sports across continents was something we wanted to pay homage to in this exciting campaign as it represents the brand's 'wit and grit' approach to innovation and experiential marketing," declared Brian Cox, Dewar's North America VP.
Let's just say, it's quite an improvement on some of Dewar's past efforts, notably the truly appalling Drinking Man series.
Scotch can get it right as Johnnie Walker proved in 2009 with its epic 5-minute film starring Robert Carlyle in 'The Man Who Walked Around the World'. But Elliot Wilson urges the big brands to be a bit braver and perhaps take themselves a little less seriously.
"I don't know why we're fearful of associating whisky with humour," he says.
Either way, big-budget advertising at least aspires to build brands and attract the curious to give Scotch a try. And it's worth adding that money spent on content is money not blown on chasing market share through price promotions in supermarkets.
Front Page Image: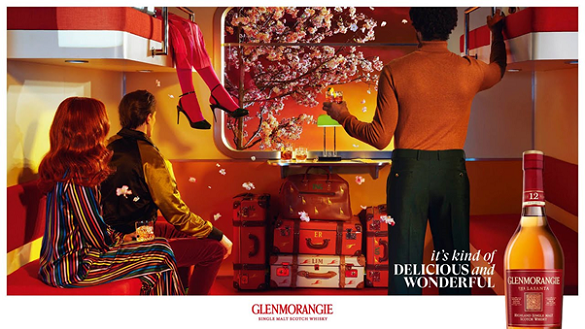 Award-winning drinks columnist and author Tom Bruce-Gardyne began his career in the wine trade, managing exports for a major Sicilian producer. Now freelance for 20 years, Tom has been a weekly columnist for The Herald and his books include The Scotch Whisky Book and most recently Scotch Whisky Treasures.
You can read more comment and analysis on the Scotch whisky industry by clicking on Whisky News.