Thursday 1/4/2021 16:42 Tom Bruce-Gardyne
Scotch Whisky in Brazil: Keep Walking, Keep Fighting
Johnnie Walker's latest ad hopes for an end to Covid's mass isolation. That it was filmed in Scotch whisky giant Brazil is especially poignant, says Tom Bruce-Gardyne for WhiskyInvestDirect...
In ITS LATEST blockbuster commercial for Scotch whisky's No.1 brand, Johnnie Walker, Diageo has ventured into space.
But instead of the journey out there, it has focussed on the return to Planet Earth.
"Coming back means reliving everything again like it's the first time..." says the voice-over.
"Take it from me, I'm astronaut Daniel Olivas, and I know what it's like to be isolated from the world."
Amid the ongoing global pandemic, it is "all about the existential issues of our time," says German marketing guru Oliver Dietrich.
"Isolation, faith, hope...and a strong whisky brand."
The fact that it was filmed and produced in Brazil is poignant, for this is a country more desperate than almost any for a return to normality as it grapples with a second wave of Covid more deadly than the first.
When it comes to capturing the zeitgeist of this huge emerging market for Scotch whisky, Johnnie Walker has form.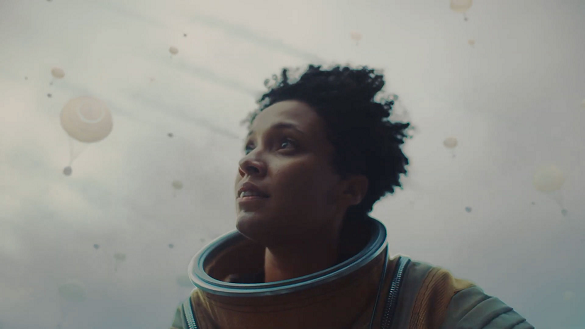 In a 2011 advert, Rio de Janeiro's famous Sugarloaf Mountain morphs into a giant that begins walking under the heading; 'O Gigante Acordou' (the giant has awoken). For Johnnie Walker it was not just a slogan; it wedded the brand to the belief that Brazil was finally stirring to fulfil its dreams. It had been perceived as forever 'the country of the future'.
"It was an endorsement of something faced by the local culture that the country is headed in the right direction," says Gregorio Guttierez, head of Diageo's operations in Brazil, Paraguay and Uruguay.
"When the striding man turns up, people turn their heads and see what's going on. Even non-Scotch drinkers relate to Johnnie Walker as a lifestyle brand."
It was testament to the strength of the brand, if perhaps not entirely to Diageo's liking, that in 2013 'O Gigante Acordou' reappeared on banners in anti-government protests with 'Keep Walking' subverted into 'Keep Fighting'.
Brazil went on to experience "the worst economic crisis in recent history in 2015-16 when people suffered quite a bit," says Guttierez.
"A large fraction of the middle class that had emerged and begun to establish itself actually went down into poverty again."
While the Brazilian economy shrunk by 4.1% last year, its worst performance since 1996, it did rally in the second-half and is currently forecast to grow by 3.2% this year. By value Scotch shipments fell 14% in 2020, but at £58 million it more-or-less tallies with the past five-year average according to HMRC figures collated by WhiskyInvestDirect.
Meanwhile bottled blends, which account for 95% of the market, grew 18% by volume to 43 million bottles – the best result for a decade. Six years ago, a third of Brazilian shipments was bulk whisky, destined for bottling in local brands, rather than readied-bottled.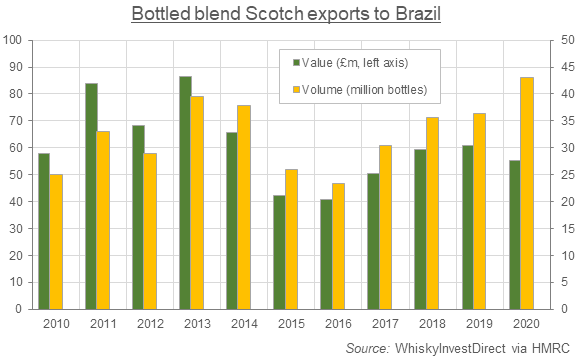 Blended Scotch whiskies like Pernod Ricard's Passport are still locally bottled in Resende and in Suape down the coast from the northern port city of Recife, which claimed in 2010 to have the highest per capita consumption of Scotch in the world.
Whether or not that's still true, whisky-drinking remains very much part of life in Brazil's north-east claims Guttierez. By contrast, "it's a little bit less democratic," in central and southern Brazil, in his view. "It is more of a niche, and more associated with status occasions."
Patrícia Cardoso, Pernod Ricard Brazil's marketing director, believes this is changing, and, with blends on the rise, says: "We are optimistic this growth can be maintained, thanks to the increased consumption occasion associated with whisky." Yet she admits "the pandemic has had a big impact on the hospitality industry, and this has directly impacted many drinks companies like ours.
"Brazil is known for its vibrant bar and restaurant scene and major celebrations, such as New Year's Eve and Carnival, which are two key events for us to activate brands including Ballantine's and Chivas Regal."
February's Rio Carnival was cancelled with one of its main venues, the Sambódromo parade grounds, now a vaccination centre. But "as consumers are not able to go out so much and spend money in leisure, we have seen a shift in people trading up to higher priced brands compared to their pre-pandemic usual options," says Cardosa. Apparently Royal Salute, Pernod's top luxury blend, did well in Brazil last year.
The Brazilian on-trade has obviously been hit as Patrícia Cardoso maintains, although any lockdown was relaxed by European standards. Even the most recent curfew in Rio de Janeiro in early March, allowed shops, bars and restaurants to stay open until 5pm. There have been calls to impeach President Jair Bolsonaro, dubbed 'Captain Corona', for his chronic mishandling of the pandemic.
But Brazilians have seen it all before, with former President Dilma Rousseff impeached for corruption in 2016 and her predecessor President Lula imprisoned. "There is scepticism about politicians and about the economy but these issues have always been there," says Gregorio Guttierez.
"So, in one word, the feeling is of resilience. No matter what hits us, Brazilians will keep walking."
Front Page Image: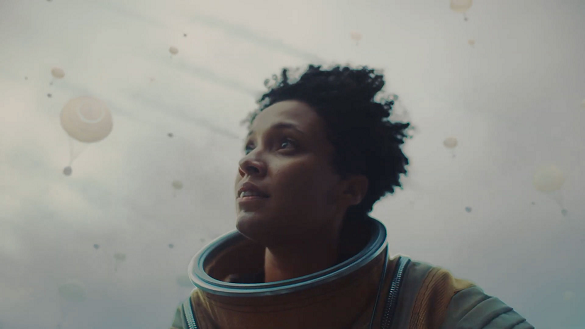 Award-winning drinks columnist and author Tom Bruce-Gardyne began his career in the wine trade, managing exports for a major Sicilian producer. Now freelance for 20 years, Tom has been a weekly columnist for The Herald and his books include The Scotch Whisky Book and most recently Scotch Whisky Treasures.
You can read more comment and analysis on the Scotch whisky industry by clicking on Whisky News.