Friday 14/5/2021 08:43 Tom Bruce-Gardyne
Scotch Whisky Adrift in Scotland's Neverendum?
Handed a new 5-year term with nearly half May 2021's vote, will the SNP spook Scotch in their push for indyref2, asks Tom Bruce-Gardyne for WhiskyInvestDirect...
The BANK formally known as the Royal Bank of Scotland is heading south if ever the UK breaks apart.
"Our balance sheet would be too big for an independent Scottish economy and so we would move our registered headquarters, in the event of independence, to London," said the NatWest Group's CEO, Alison Rose a week before last Thursday's election.
The news seemed to have little effect on Scottish voters, who returned the SNP to power with a little help from the Greens, bringing the prospect of indyref2 a step closer.
Clearly no such option exists for Scotch whisky, which is rooted to its homeland by definition.
Until Covid struck the industry had become Scotland's biggest export earner, bringing in £4.7 billion in 2018, ahead of refined petroleum on £4bn, and Scotch is not running out like North Sea oil.
While its exports may have dipped to £3.8bn last year, whisky is destined to play a huge role in Scotland's economy if independence ever happens. Plus, there's no denying the drink's symbolic role in letting this small country punch way above its weight.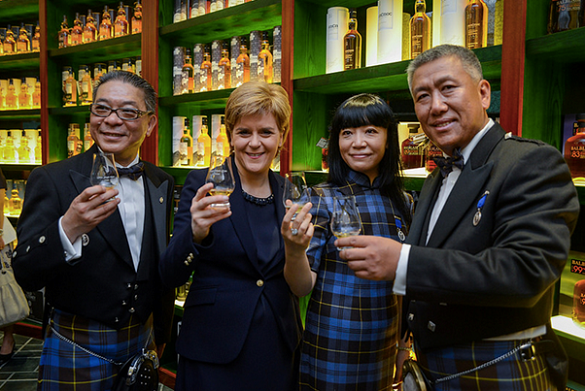 "Scotch whisky is going to sell on the worldwide stage regardless of the constitutional status of Scotland," declared the then First Minister Alex Salmond on the eve of the last referendum in 2014.
"There are great whisky companies and it's fantastic to have them. They're big enough to look after themselves. The smaller companies will benefit from the additional profile, the additional push of Scotland on the world stage."
Not that he persuaded many in the industry. An open letter to the Scotsman claiming the case for independence had not been made was signed by 130 business leaders including from William Grant & Sons, InverHouse, Burn Stewart, the Edrington Group and Ian Macleod Distillers.
While international drinks giants (and whisky's top two brand owners) Diageo and Pernod Ricard stayed out of the debate, the only gesture of support for Salmond and the SNP came from Springbank, which released its Spirit of Freedom 45 whisky 'to support the 45% of voters who said Yes' in the 2014 referendum.
If the SNP had won that vote, Scotland was going to leave the EU in order to re-join as a sovereign state (so long as Spain didn't cast its veto for fear of stoking Catalan and Basque independence at home). Since then, we've had Brexit which, for all the panic over a no-deal leading to tariffs, did not really hit Scotch too hard as spirits, glass and packaging remain tariff-free.
What Brexit did do, brilliantly, was reignite the cause for independence.
The UK Government did get the US tariffs on single malts suspended much sooner than was expected on March 4th, though there was little sign of gratitude among Scottish voters last week. An even bigger coup would be for the UK to negotiate a trade deal with India that eventually reduced the long-standing 150% import tariff on spirits. That could be a real game changer for Scotch whisky, if only Nicola Sturgeon had the patience to wait.
No danger of that. But the soft power of 200 UK embassies should not be dismissed lightly. An independent Scotland is predicted to have no more than 90 such outposts around the world, and some future Scottish trade mission could find itself at the back of a very long queue in a country like India.
"Ah, but we'd be part of the EU," the Nats would retort, which is conceivable, though perhaps not before 2030, and assuming Scotland accepted conditions such as joining the Euro.
The currency is just one of the many unknowns in this whole saga. "With Brexit the uncertainty proved worse than the reality," says WhiskyInvestDirect's founder and CEO, Rupert Patrick. With Scottish independence that uncertainty would be on steroids, as distillers try and take long-term decisions as their whisky slumbers in the cask.
Meanwhile there's the grim prospect of a hard border along Hadrian's Wall impeding the flow of Scotch to the container ports of Liverpool and Felixstowe. The post-Brexit confusion in Northern Ireland doesn't bode well.
Then there's the question of how an independent Scottish government would treat the whisky industry. Will it leave well alone, or see it as a cash cow to be milked more vigorously?
The economist John Kay, visiting professor at LSE and a former adviser to the Scottish government, is one who believes Scotch could do more for its homeland. He has proposed a £1 a bottle production tax "possibly based on water usage" to correct the fact that, by his reckoning, only 2% of the drink's total retail value accrues back to Scotland.
"Madness!" cries one industry veteran who prefers to remain anonymous. He imagines the response from the big distillers with their wide portfolio of spirits might be: "If you're going to pull the rug from under our feet and tax us to the hilt, we'll spend our marketing dollars, pounds, euros...elsewhere, thanks very much."
But in 2018 John Kay assured me he saw "very little political will" for his idea, which is just as well.
If it ever happened it would be an extraordinary gift to whisk(e)y producers everywhere – just not those in Scotland. Meanwhile, back in the present, the neverendum rumbles on and on.
Front Page Image: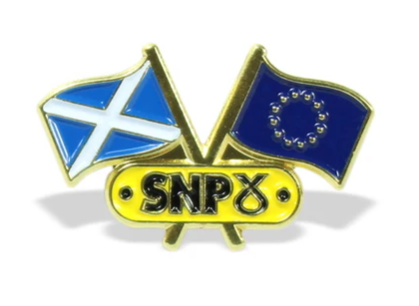 Award-winning drinks columnist and author Tom Bruce-Gardyne began his career in the wine trade, managing exports for a major Sicilian producer. Now freelance for 20 years, Tom has been a weekly columnist for The Herald and his books include The Scotch Whisky Book and most recently Scotch Whisky Treasures.
You can read more comment and analysis on the Scotch whisky industry by clicking on Whisky News.