Thursday 22/4/2021 20:18 Ian Wisniewski
Single Malt Scotch Whisky's Big Boom in Sweden
A state-owned liquor monopoly, rising Covid cases, plus the world's biggest beer and whisky festival: How will Sweden's love of Scotch fare in 2021, asks Ian Wisniewski for WhiskyInvestDirect...
WILL May 2nd be a big night out in Sweden?
That's when the current ban on bar and restaurant sales of alcohol after 8pm is due to be lifted, provided that this month's rise in Covid cases doesn't worsen enough to shake what some believe is the Nordic nation's overly-relaxed strategy.
Public events, meanwhile, will continue to be restricted to eight attendees, as has been the case since March 12 this year. This is due for review in September when the Stockholm Beer & Whisky Festival is (usually) held, with 40,000 visitors making this the world's largest such festival. Last year it was cancelled due to Covid restrictions.
This year's aim is to open on September 23, in whatever format is allowed: a physical or digital drinks festival, or a combination.
"Currently there's more digital sampling than usual in Sweden, but the absence of physical events is a big deal," says Jason Craig, global brand director, Highland Park.
"Whisky festivals can run for 5-7 days with up to 8,000 attending in one day. Swedes know what they want to taste and alcohol is expensive in Sweden, that's why sampling at festivals is more critical than in many other markets."
Whisky clubs also facilitate sampling, and around 215 clubs are currently registered with the Swedish Whisky Association, plus a few hundred that aren't.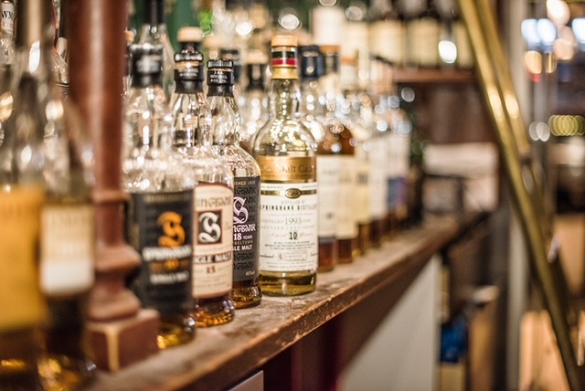 "Whisky club tastings are a big part of my work. During the pandemic it's all been digitalized and I'm currently doing a few whisky club tastings per month," says Olof Noreus, Whisky Brand Ambassador, Pernod-Ricard Sweden, who normally does 30-40 physical tastings for clubs a year.
"There is often dinner and a chat after the tasting, which is a great opportunity to see what's being discussed."
This (currently unavailable) opportunity to chat is all the more important as advertising is restricted to the product, its provenance and the like.
"Standard blends account for almost 50% of total Scotch whisky volume, but taxation levels make standard brands relatively expensive at around €15-20," says Nicolas Souchon, marketing director, Pernod Ricard Sweden. This is due to 32% duty on the retail price, plus 20% VAT.
However, the category benefitted from travel restrictions during the pandemic, as Thomas Sundblom, MD of importer/distributor Clydesdale AB, explains:
"In 2020-21 sales of inexpensive blends, such as Highland Queen, were up 35% in Sweden, because no one was going to Germany to buy the same brands at a cheaper price, nor sailing on tax free ferries which ordinarily sell huge amounts of inexpensive blends."
This doubtless contributed to a 38% surge in shipments to Sweden last year to the equivalent of just over 9 million bottles, worth £41 million – up 28% on 2019. This puts Sweden in 23rd place in the value export charts according to HMRC figures collated by WhiskyInvestDirect.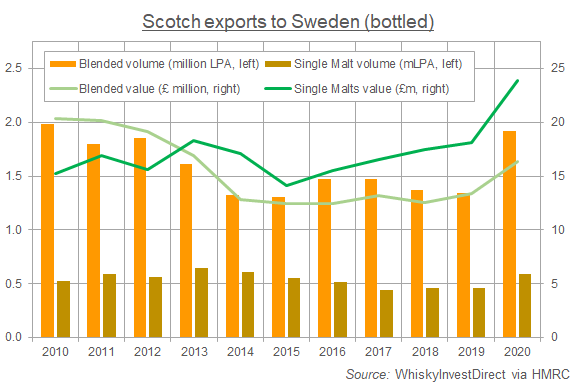 When (and how) travel restrictions change remains to be seen, as does the extent to which these shopping patterns resume.
Premium brands (€20-30) account for 30% of Scotch volumes according to Nicolas Souchon. "Above €30 is considered super-premium," he says, "accounting for 20% of total volume and 30% of value.
"The least expensive single malts are the same price or even lower than some super premium blends, and this has been one of the drivers for malts' success."
Dividing the category stylistically provides additional insights.
"10-15 years ago more people were asking for the smokiest malts, but interest has broadened to include light and medium-peating levels, as well as greater interest in Speyside and Highland Malts," says Pernod's Olof Noreus.
"Bold flavours, whether peated or unpeated are highly prized, that's part of understanding why connoisseurs prefer malts to blends right now. Swedish whisky fans love cask strength, Sherry cask matured and Islay malts."

At Clydesdale AB, Thomas Sundblom adds: "Swedes are always looking for something new, and the focus now is on buying something special, usually whiskies considered full-flavoured which are taking sales from peated."
Buying whisky is only possible from Systembolaget, the State-owned monopoly with 446 stores nationwide. Achieving a retail listing is on the basis of blind tastings by Systembolaget's panel.
"There is a tender process 3-4 times a year, and you submit bottles by the due date. An example of timings is applying in April to be listed for sale in August-September," says Sundblom.
Systembolaget also holds eight on-line auctions annually, and its appraiser responsible, Patrik Nordström says: "There is considerable interest in Islay whisky and closed distilleries, with Scotch whisky distilled in the 1960s-70s achieving increasingly higher prices.
"Interest in blends, blended malt and grain whisky is quite small and mostly limited to older bottlings."
But with more whiskies from around the world arriving in Sweden, how will Scotch whisky fare?
"Interest in other whiskies, particularly Bourbon, Irish and Japanese will continue to grow," says Nicolas Souchon.
"[But] Scotch is still the major name among Swedish consumers."
Front Page Image: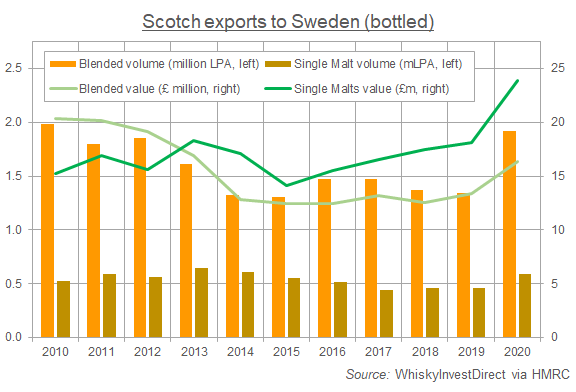 Ian Wisniewski is a freelance writer and leading authority on spirits, with a focus on Scotch whisky. Over the course of his two decades covering the industry he has published seven books, including the Classic Whisky Handbook, and has contributed to publications such as Whisky Magazine, The Times, The Malt Whisky Yearbook and Scotchwhisky.com.
You can read more comment and analysis on the Scotch whisky industry by clicking on Whisky News.