Friday 25/2/2022 09:00 Richard Woodard
Thirsty Again - the World Recovers its Taste for Scotch
After a nightmare 2020, Scotch whisky exports surged back to nearly 1.4 billion bottles last year – fuelled by strong demand in Latin America and Asia Pacific. Richard Woodard crunches the numbers for WhiskyInvestDirect…
AS the Covid-19 pandemic swept around the world during 2020, the impact on Scotch whisky shipments was clear – and it was equally obvious that some form of recovery would occur in 2021. But the scale of that resurgence has taken the industry by surprise.
To run through the headline shipment numbers from the HMRC: Volume up 21% to 1.4bn bottles, value rising 19% to £4.51bn, led by a remarkable 71% value surge in Latin America, and growth of 21.4% in Asia Pacific. China was up 85%, India 43%.
All had fallen back in 2020, but it's fair to say that 2021 went about as well as anyone could have expected, even if the total value of exports failed to reach 2019's record of £4.91bn, partly thanks to travel retail's continued woes.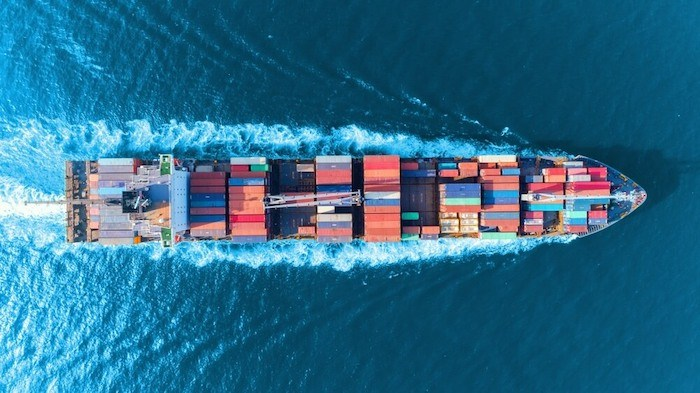 India's performance is particularly remarkable. Scotch whisky exports into the country are subject to a 150% ad valorem import tariff, as well as a fiendishly complicated system of regulations and taxes administered by the individual states.
Despite all of this, India is now Scotch's second-largest export market by volume, overtaking the US in 2021 and now lagging only France. This is a country obsessed by whisky, and it's no surprise that brand owners are eagerly hoping for more in the years to come.
In their recent first-half trading results, both Diageo and Pernod Ricard highlighted the positive trends in India, and Chivas Brothers chairman and CEO Jean-Etienne Gourgues called on the UK Government to make Scotch a top priority in the nascent FTA (free trade agreement) talks with the country.
Scotch whisky's most lucrative export destination, the US, rose 8.4% in value terms in 2021, despite the continued imposition of 25% import tariffs on single malts until early March.
Intriguingly, the clear negative impact of those tariffs could be positive for blends, which have struggled in the US in recent years. Joakim Leijon, global brand director for Famous Grouse at Edrington, reports a "shift in consumption" from malts to blends throughout 2020 and into 2021 – something he expects to continue thanks to the impact of rising inflation.
The underlying strength of the US market, and the remarkable gains made in emerging markets from South America to the Far East, hogged the headlines in 2021. But what of France – the country that is still, by some distance, the biggest consumer of Scotch whisky on the planet?
The dominant player in France is La Martiniquaise, purveyor of high-volume blends such as William Peel, Label 5 and Sir Edward's. "From the past three years, we observed a very high resilience of this market," says Clémence Leclerc, its international marketing manager for whiskies. "The off-trade market of blended Scotch whiskies under 12 years old represented 81.2m litres in 2019, 81.7m litres in 2020 and 80.8m litres in 2021 (source: off-trade panels/IRI)."
France has shown remarkable resilience, but challenges persist, thanks to a fiercely competitive retail channel where price wars are the norm. According to Iain Weir, brand director at Ian Macleod Distillers, the result is an undignified scrap for volumes between blends, single malts, whiskies of other origins (the US, Ireland, Japan and France itself) – and even rums and gins.
The worry is that this competitive landscape does little to attract younger consumers, and that Scotch's loyal French fanbase is an ageing demographic that simply flips from one offer to the next without any loyalty to brand or category.
La Martiniquaise is trying to tackle this, targeting a new generation by championing the use of whisky in cocktails – and it's clear that if brand-owners can refresh Scotch's image in such a whisky-literate market, the future looks bright indeed.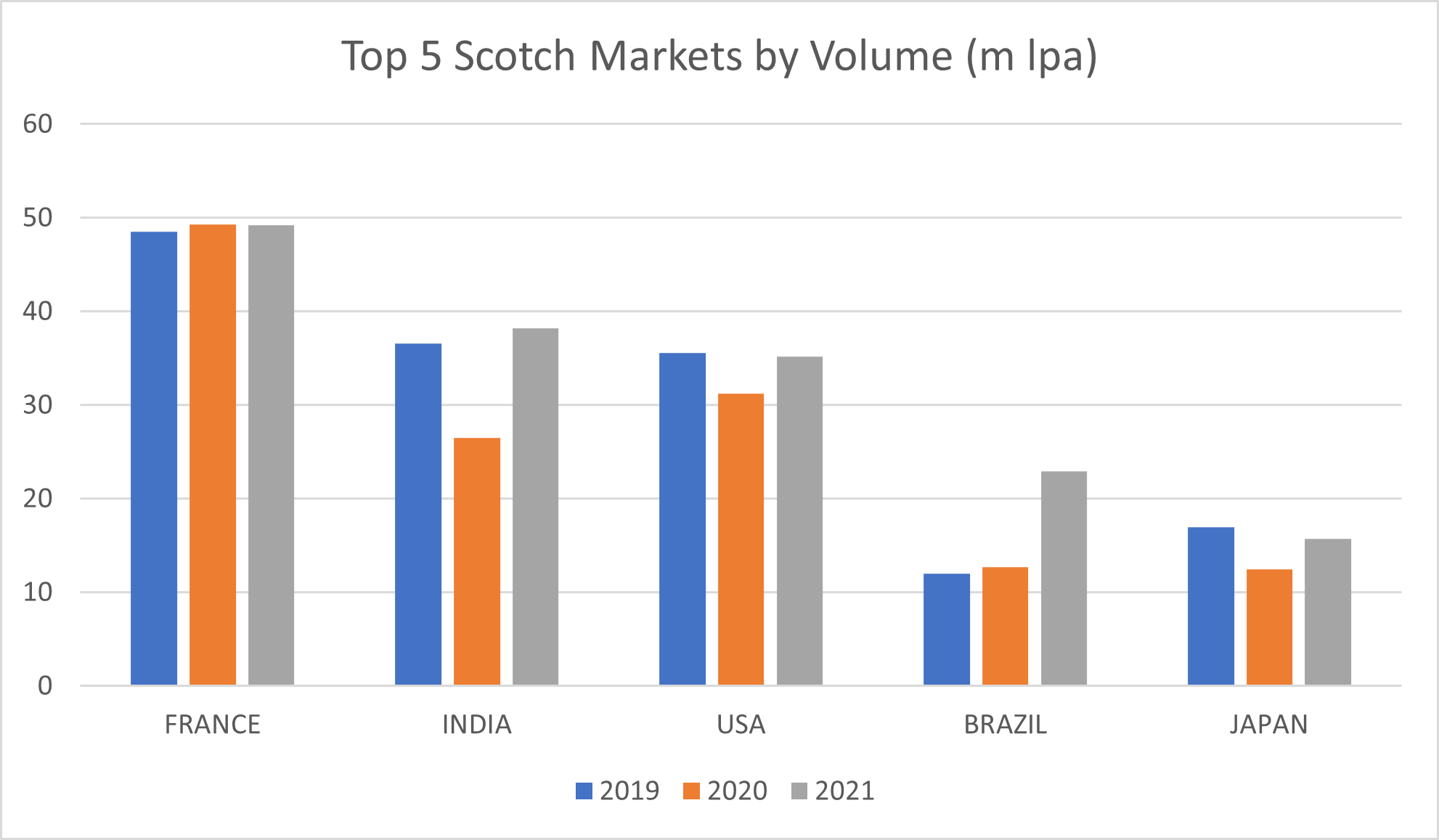 Meanwhile, in further-flung markets, the much-trumpeted post-Brexit trade opportunities for the UK could play a vital role. According to research from accountancy firm EY commissioned by Chivas Brothers, trade liberalisation could boost spirits exports to promising markets such as Brazil and Nigeria.
Jean-Etienne Gourgues highlights the likely benefits of the recently-agreed FTA with Australia – where tariffs on Scotch will be lowered to the same level as Bourbon – and reckons that cutting India's 150% tariff would "more than double" UK whisky exports there.
The contrast between France and emerging economies like India sums up the challenges and opportunities facing Scotch whisky in 2022: build a stronger image and reputation in mature western markets, while exploiting the clear opportunities in Asia and Latin America.
If brand owners can pull off that particular two-card trick, Scotch whisky exports will continue the momentum they regained during 2021 – and the annus horribilis of 2020 could soon be a distant memory.
Front Page Image: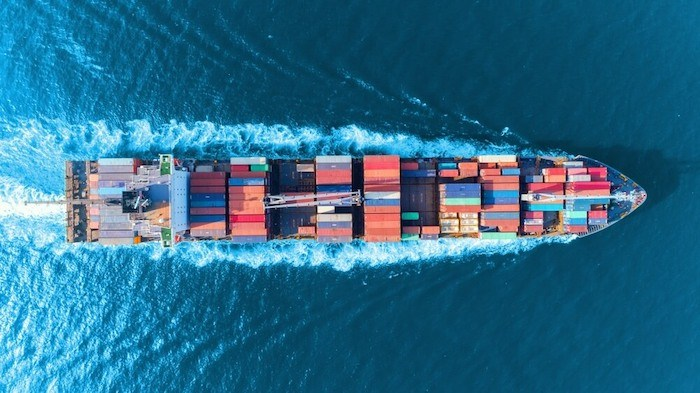 Richard Woodard has been writing about spirits and wine for 20 years, editing and contributing to a number of magazines and websites, including Decanter, The Spirits Business, just-drinks.com and Club Oenologique. He was also one of the founding editors of Scotchwhisky.com.