Friday 11/2/2022 14:50 Ben Challen
Scotch whisky exports rise 21% back to pre-pandemic levels
Today's new export data from HMRC shows that Scotch whisky exports recovered strongly in 2021, with some markets performing better than others. Ben Challen takes a look at the winners and losers for WhiskyInvestDirect…
SCOTCH WHISKY seems to have come out on top in 2021, recovering strongly from the pandemic through a year filled in equal parts with setbacks and opportunities.
Today's release from HM Revenue & Customs (the UK tax authority) casts some light on the ups and downs of 2021 by completing the full year's export figures.
After hitting a 10-year low in 2020, exports of Scotch whisky by volume shot up 20.8% to an all-time high, with over 380 million litres leaving the UK. The value of whisky exported climbed back 18.6% as well, to £4.5 billion. After most distillers put the brakes on in 2020, "this dramatic bounce back in volumes will force many Scotch whisky stock planners to think again", in the words of WhiskyInvestDirect co-founder Rupert Patrick.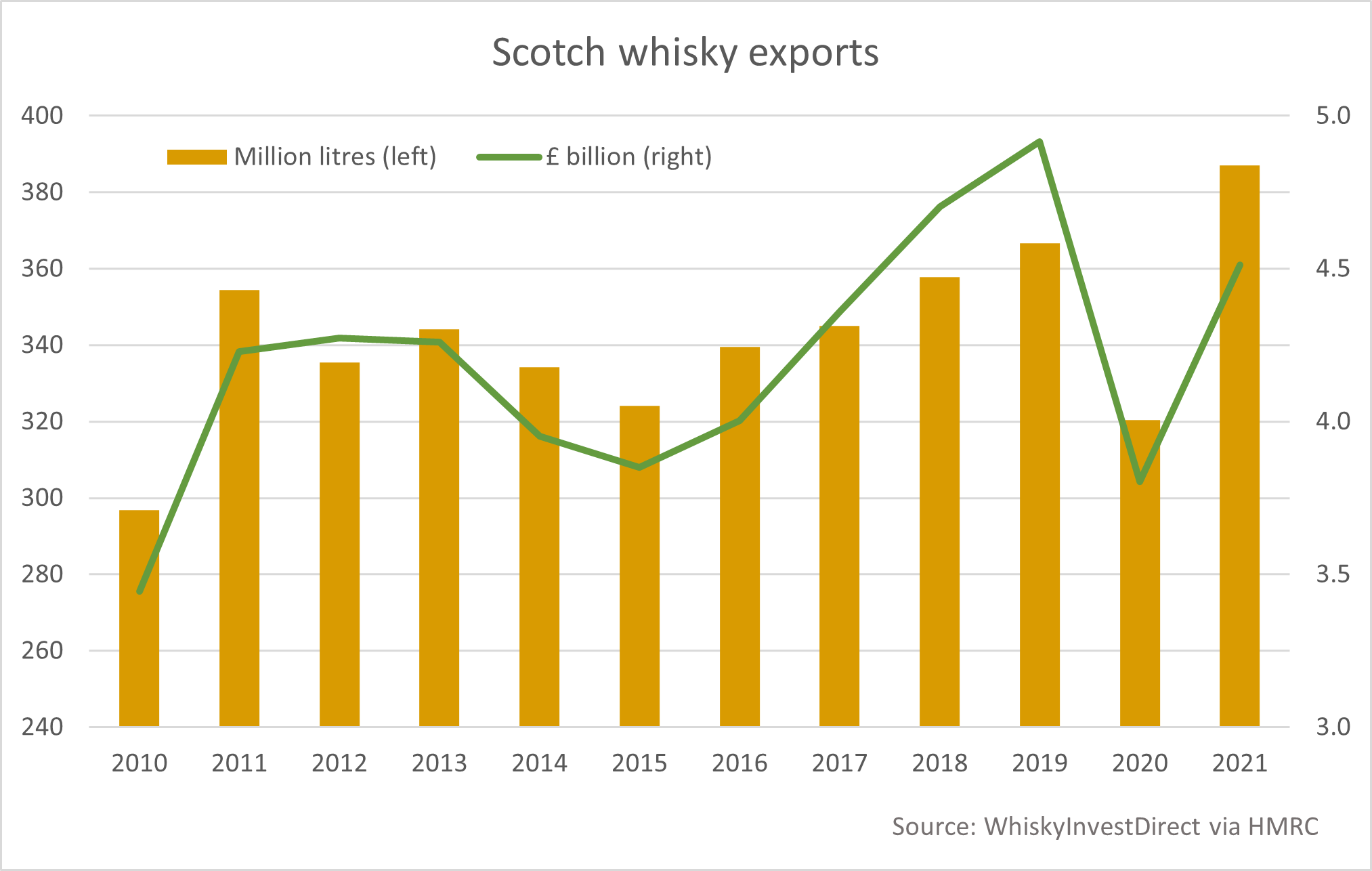 Rupert goes on to say, " These numbers are extremely encouraging and have taken the industry rather by surprise. Forecasts are rapidly being re-done by many distillers and brand owners." But as producers re-jig their numbers and cast about for new sources of potential growth, where might their eye fall?
Leading the charge is Latin America, where exports have risen by a staggering 70.7% in the year. Several large producers, including Diageo and Edrington, have already identified it as a growth target, and HMRC's data confirms their efforts are bearing fruit. Brazil, the largest market in the region, shot up over 80%, with almost 23 million litres reaching its shores from the UK.
Elsewhere, the Asian market continues to look strong, with exports up 22%. Interesting to note, however, is that exports to Singapore, traditionally a hub through which large volumes of whisky pass before heading onwards, fell by 19.7%. Comparing the figures to China, where exports climbed a massive 60.1%, it looks as though Singapore may no longer represent the first port of call that it used to.
India was another success story of 2021 – after dropping off steeply in 2020, exports rose 44% to an all-time high. This is before any rumoured reduction in tariffs comes into effect – if the current 150% tariff is removed or reduced, we could see exports to the country skyrocket.
However, while global exports may have climbed steeply in volume, the value of Scotch whisky leaving the UK is not yet back to pre-pandemic levels (£4.5bn vs £4.9bn in 2019).
The signs, then, are that importers are starting small and focusing on rebuilding a foundation of lower-value sales, while premium whiskies are lagging slightly behind. This is perhaps unsurprising – travel retail is far from a recovery, and this has always trended strongly towards high-value sales.
Source: WhiskyInvestDirect via HMRC
The repealing of Donald Trump's trade tariffs on single malt Scotch, which had heavily impacted premium exports to the US, was a source of relief to distillers. Once these were suspended and then removed in June, exports saw a strong recovery, with the average value of exports to the US climbing 40% through the year from £18.58 per litre in Q1 up to £26.09 in Q4.
Meanwhile France, traditionally the king of the low-value end of the scale, continued to stroll through COVID seemingly unabated. After exports to the country actually increased from 2019 to 2020, they held steady during 2021, and the value even ticked up slightly, to a whopping £7.85 per litre.
So do these figures show that the Scotch whisky industry is free from the influence of the pandemic? Well, not entirely – the travel retail sector still has a long way to go, and Omicron caused a bit of a blip in December.
But the most encouraging thing is that there are clear factors influencing the export numbers that are not related to COVID. No longer does the singular impact of the pandemic dwarf all else, and while the shadow of COVID still lies over the industry almost two years on, it has mostly emerged again back into the light.
Front Page Image: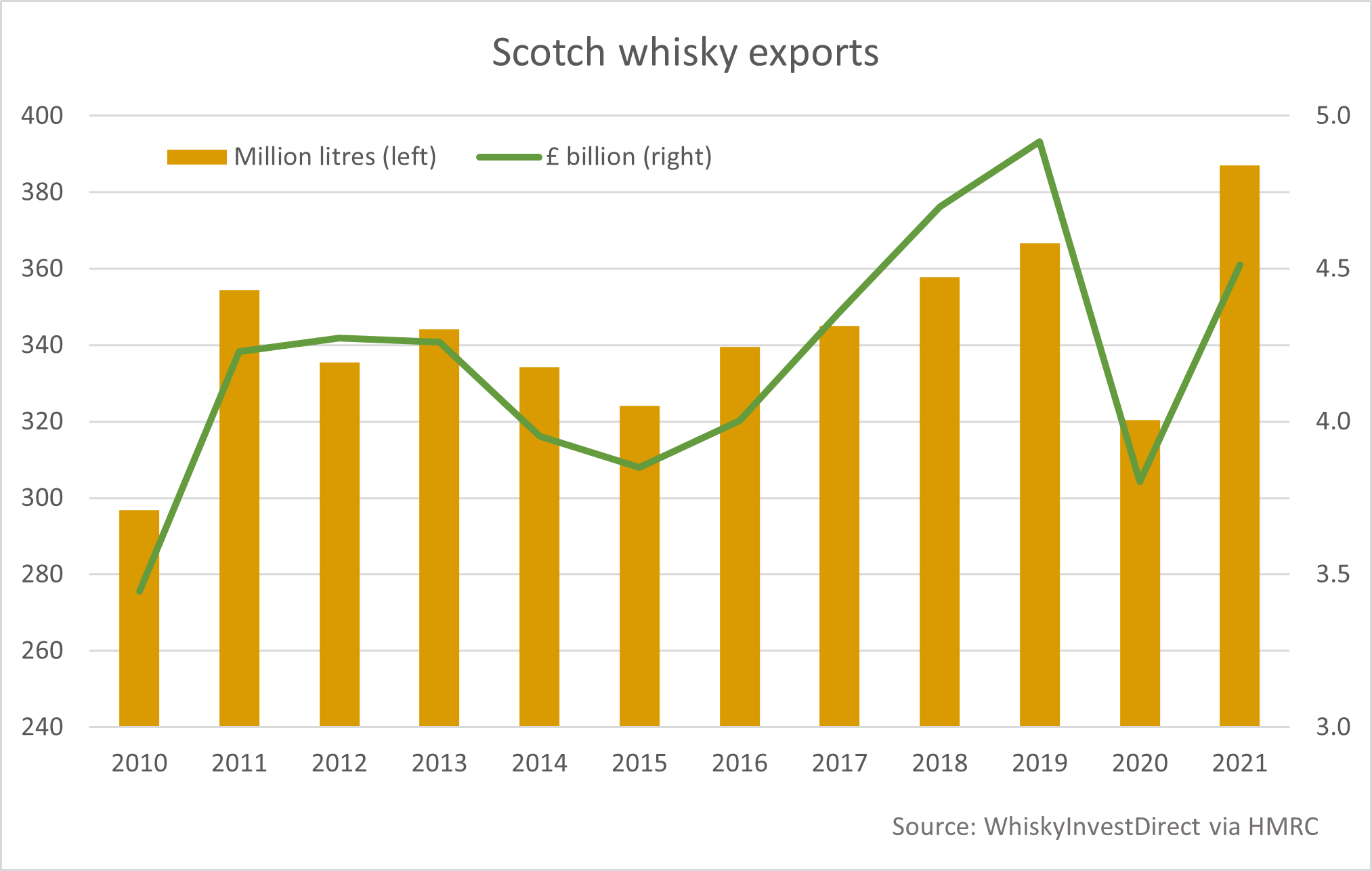 Communications Manager at WhiskyInvestDirect, Ben Challen is at his happiest when surrounded by whisky and statistics, sifting through the data to find out what makes his favourite industry tick.