Friday 13/5/2022 09:00 Tom Bruce-Gardyne
American Blues for Scotch Whisky
While the US remains by far Scotch whisky's most valuable market with shipments worth £790 million - twice that of France - all is not well across the pond, reports Tom Bruce-Gardyne for WhiskyInvestDirect…
LAST weekend, Formula One rolled into Miami where "the city's entire hospitality industry flexed its sizable muscles for several days of partying from the track to the beach," claimed Bloomberg. The race's official whisky took part in the festivities with an aerial light show performed by a flock of drones that merged for their finale into the logo of Johnnie Walker.
To quote the most recent stats from Impact Databank, Diageo's pride and joy sold 1.85 million cases in 2019, well ahead of the 1.01m cases achieved by Dewars – its closest rival owned by Bacardi.
Together these two brands accounted for around 40% of the 7.09m cases of blended Scotch sold in America that year. Johnnie Walker suffered during the pandemic, but has since bounced back.
According to David King, sales director at Gordon & MacPhail, Scotch peaked in America in around 1979 when Cutty Sark, the brand he looked after at Berry Bros and then the Edrington Group, was in pole position on 2.6m cases. White spirits, particular vodka, were surging, but Scotch faced little competition from other dark spirits with Bourbon resolutely low grade and about to enter a long period of decline, and Irish whiskey almost nowhere to be seen.
How times have changed. American whiskey has almost doubled in volume in a decade with its super-premium tier up 129% since 2016, and it now outsells Scotch more than 3:1 according to the Distilled Spirits Council of the US (DISCUS).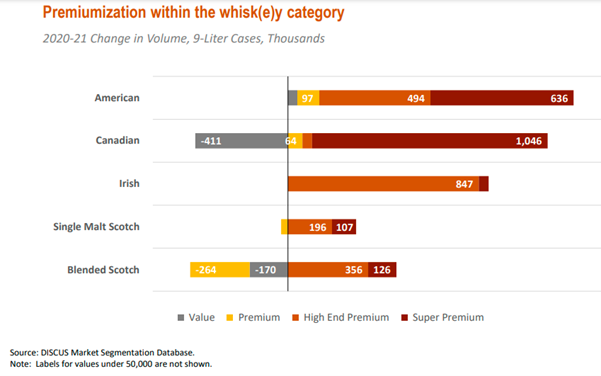 Irish whiskey has exploded ten-fold since the Millennium to 5.9m cases in 2021, and then there's that Mexican spirit that Americans just can't get enough of.
To be brutally honest, there's a party going on in the States and Scotch hasn't been invited. "It's a party fuelled by Tequila, by American whiskeys, flavoured whiskeys, even Cognac," says King.
However, we are not talking of single malts which have kept the category afloat in the US, growing 237% since 2002 and now accounting for a third of Scotch sales by value. Single malt was the fifth fastest-growing spirit by value, up 14.4% to US$130m in 2021, according to DISCUS.
The problem lies with blends. As a category "I just think it's lost its salience," says King, and it is hard not to think of those once mighty brands of 'blonde whisky' like J&B and Cutty Sark that now lurk in the discount aisles in big 1.75L bottles in America. Their former broad appeal has now shrunk to a distinctly ageing demographic. The big brand-owners like to insist their particular blend is bucking the trend, that it's gaining market share and 'premiumising' as consumers trade-up.
"There has been a move from Red (Label) to Black," says King about Johnnie Walker. "And at Chivas, they're pushing the 15 and 18 year-old."
And yet these movements all seem to be within the category and not at the expense of other spirits. Within the US sales teams behind those real power brands – Jack Daniel's and Jameson's – you can bet your bottom dollar they see blends as a soft target.
"It's really a perception issue in that somehow the word 'blended' is a negative term," Ron Vaughn, owner of Denver's Argonaut Wine & Liquor told Market Watch magazine in November 2020.
As he says, "perception is reality in marketing," and his advice to brand-owners is: "They need to make their story as compelling as those for single malts by describing ingredients, why they were chosen, and what talent it takes to blend a great Scotch. The key to any great product is in the ingredients and the history that consumers should believe is in every bottle."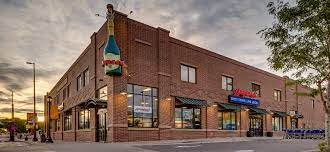 Of course, there are US success stories like William Grant's Monkey Shoulder and Johnnie Walker's stablemate Buchanan's which has leveraged its popularity in Mexico to play to a Hispanic and Latino audience which now makes up a fifth of the US population.
"The big companies will continue doing stuff in America because it's big and it feeds the engine a little," says David King. "But I know from Gordon & MacPhail we don't make as much cash in the States per bottle as we do in other markets."
The US is a notoriously expensive playground with its ancient 3-tier system of supply. One imagines the big players would dearly love to cut out the middleman, and set up their own distribution as in Europe, but that mid-tier of wholesalers looks pretty entrenched for now. Never says never, but if it did crumble "it would be like the Berlin wall coming down," says King. But by then there might not be any blended Scotch to spare if the Indian market slashes its tariffs and trebles in size.
Front Page Image: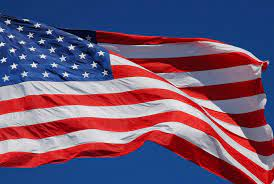 Award-winning drinks columnist and author Tom Bruce-Gardyne began his career in the wine trade, managing exports for a major Sicilian producer. Now freelance for 20 years, Tom has been a weekly columnist for The Herald and his books include The Scotch Whisky Book and most recently Scotch Whisky Treasures.
You can read more comment and analysis on the Scotch whisky industry by clicking on Whisky News.