Thursday 20/4/2023 12:34 Ben Challen
All Whisky Great and Small
Provenance and artisanship are the beating heart of Scotch whisky, at least if you're listening to the marketing. Distillers both large and small will tell tales of their heritage and craft, but what tale does the data tell, asks Ben Challen for WhiskyInvestDirect…
The last two years have been full of success stories for Scotch whisky brands at every scale. Industry giants Diageo and Pernod Ricard both posted record growth in 2022, while smaller distillers in Fife and elsewhere are going from strength to strength.
The trends over the last ten years for Scotch whisky have all been heading upwards, and there is certainly space at the table for everyone. But is the bulk of the work being done by the bigger players in the room, or is it the new and upcoming distillers that are fueling growth? I'm always happy for an excuse to sift through some data, so I grabbed my copy of the Scotch Whisky Industry Review and sat down to take a look.
The general word in the industry is that value blends – for example, Famous Grouse, Grant's, or Johnnie Walker Red – are having a tough time, and drinkers are increasingly turning to more premium offerings. Of the top ten best selling whiskies in 2012, all but three sold fewer cases in 2021 (the most recent year for which full data is available).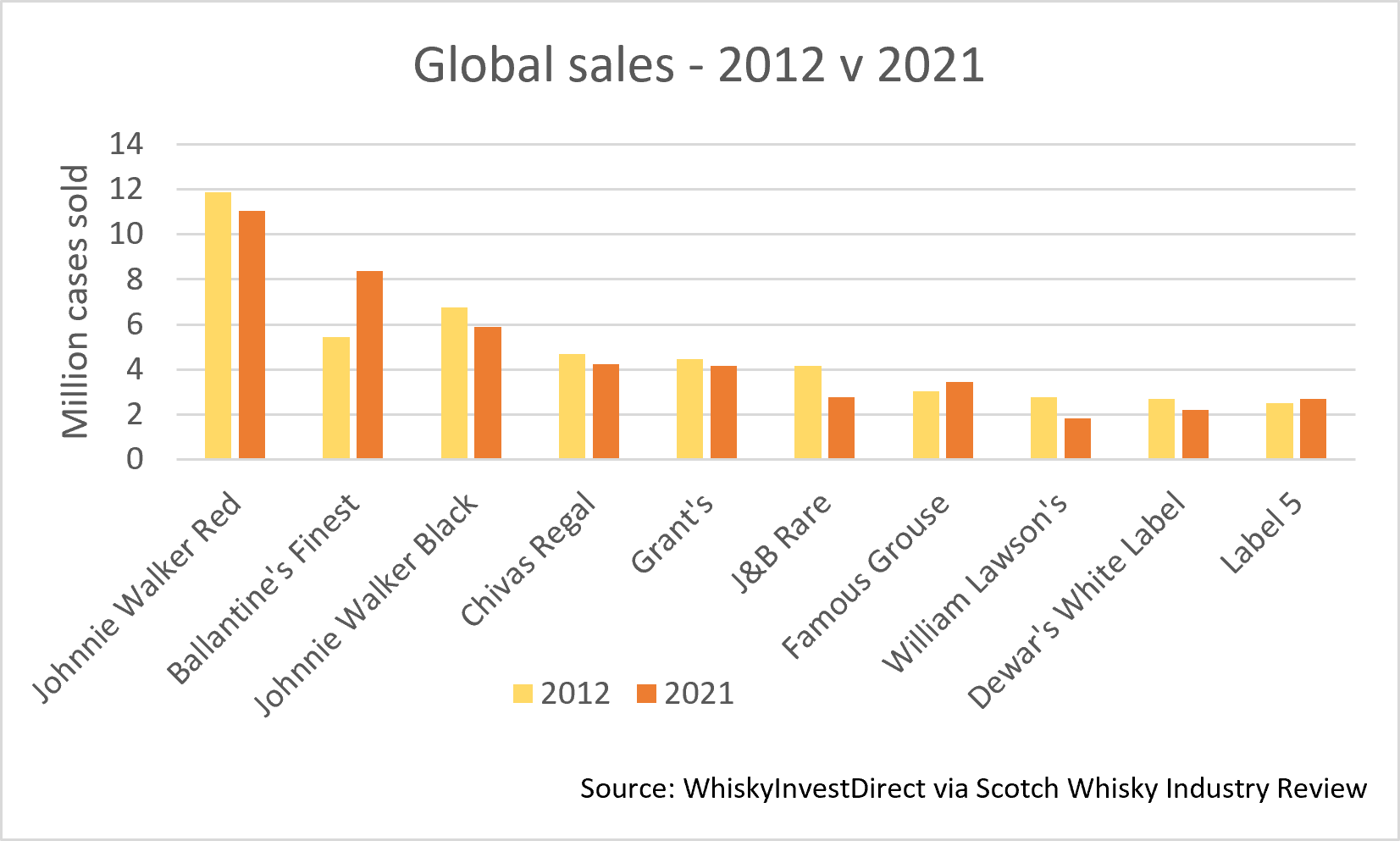 Of those three, Ballantine's Finest is the real success story, with sales jumping by 49% in volume over that 10 year period, but it has otherwise been a time for the owners of these brands to refocus.
Does that mean the door is open to smaller bottlers? At least in the blended market, maybe not. While sales for value blends have dropped off, it looks as though the bigger companies are picking up the slack elsewhere in their stables. Diageo's market share by volume was as high in 2021 as it has ever been at a staggering 41%, and the top 10 companies in the industry accounted for over 95% of sales, compared to 86% in 2013.
It seems as though it's a case of up-selling and 'premiumisation', rather than a broader shift in consumer habits. For example, sales of Johnnie Walker's 'deluxe' offerings (everything besides the Red Label and Black Label) have doubled in volume in the years since 2012, helping to balance the slowdown for their flagship brands.
That's not to say smaller brands don't have a chance. Indie bottlers like Brave New Spirits are still carving out a niche for themselves, but it's very much at the premium end of the market – they can't compete with the big players on bulk.
For distillers, however, there's more hope for the little guy. The increase in global demand for Scotch whisky over the past ten years has meant a need for higher levels of production, and a surprising amount of that capacity is being supplied by smaller distilleries.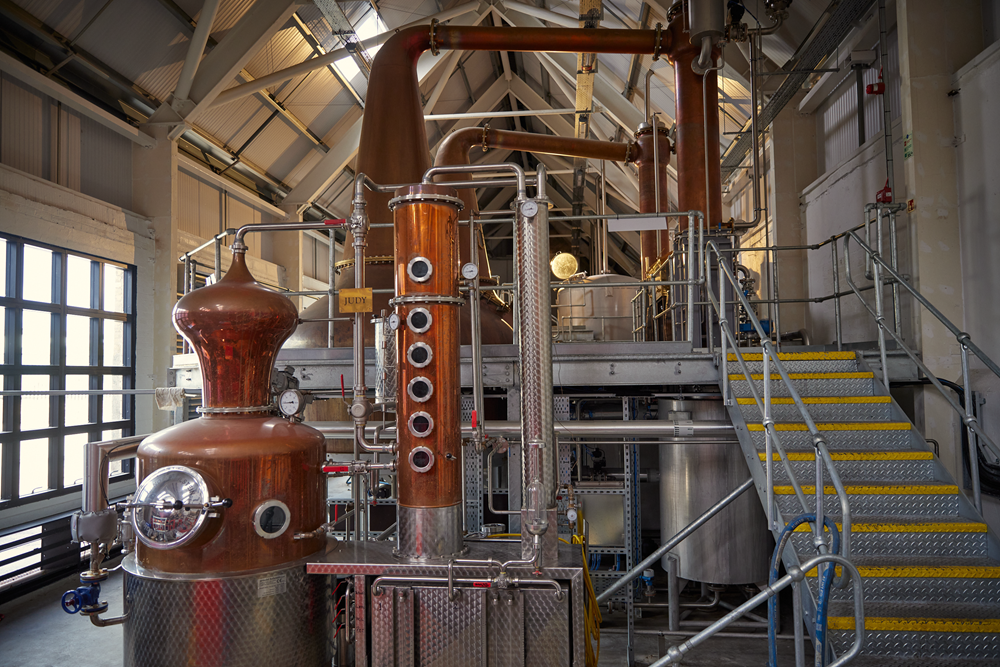 For our analysis, we split distillers into large producers (companies like Diageo) with more than 5% market share; medium producers with between 0.5% and 5% market share; and small producers with less than 0.5% market share.
In 2012, the total malt distilling capacity of the industry stood at 287 million litres of alcohol per year, with large producers providing 63% of that, and medium distillers accounting for 30%. Small distillers made up just 1% of the market.
Fast forward to 2022 though, and that figure has jumped to 6.5%, with those smaller producers making up 26 million LPA out of a total of a total of 401 million. A steady stream of new distilleries has provided much of the increase in supply, and it is the middle that is being squeezed, with production from that segment only increasing from 102 million to 120 million, and its market share dropping to 30%.
Large producers kept their 63% share of production thanks to expansions at key distilleries – the two biggest single malt brands in the world, Glenlivet and Glenfiddich, both doubled their capacity in 2018 and 2019 respectively.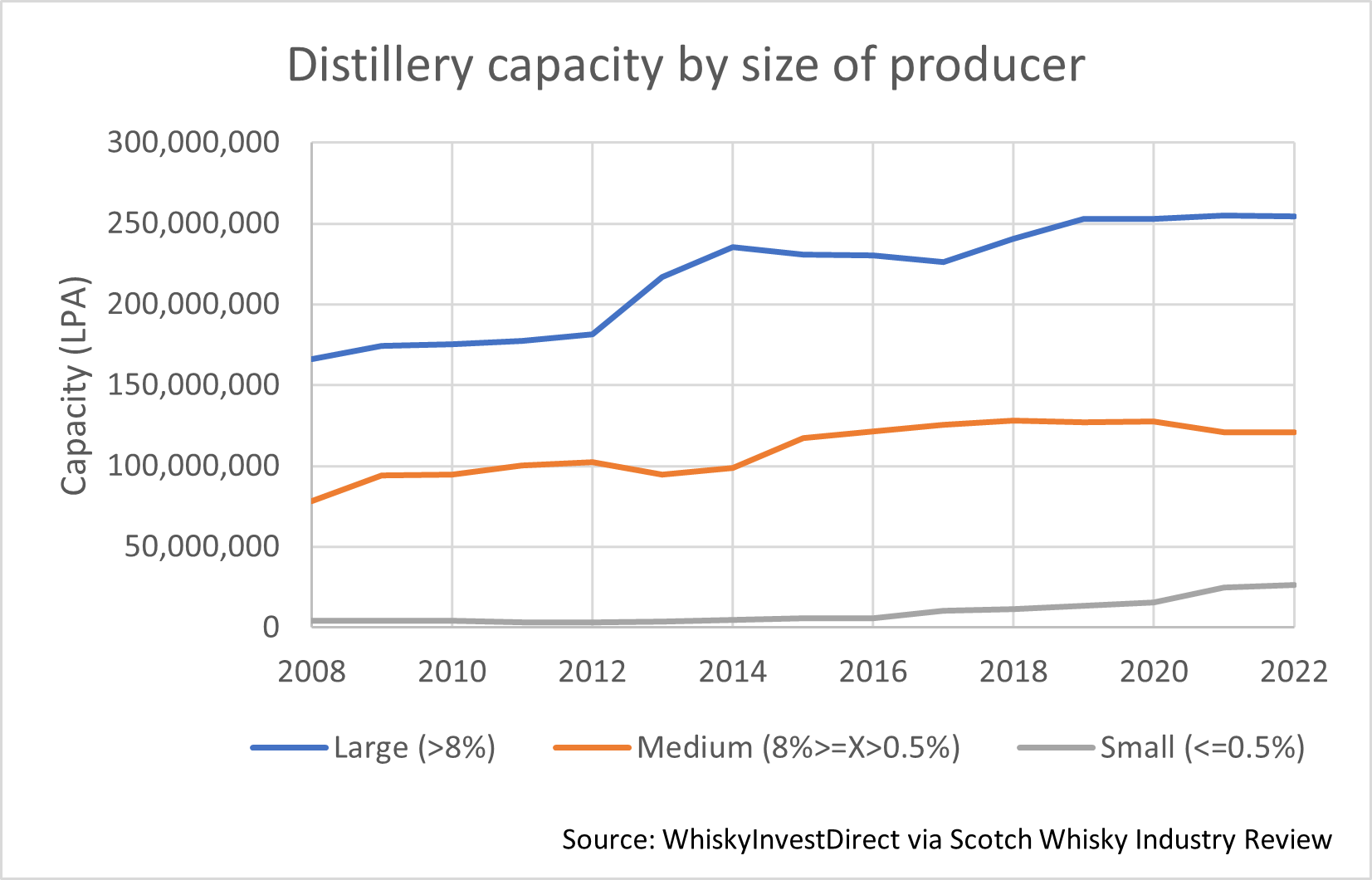 It's no secret that the last ten years has been a fertile time for to set up a distillery. The total number of whisky distilleries in Scotland was the same in 1991 as it was in 2012 (104) – however, in the years since then it gone up by over a third, and there are now 141 distilleries producing with several more well on the way. Many of these new distilleries are planning to bottle the majority of their production themselves, but there are some, such as InchDairnie, who are providing the bulk of their spirit to the blending market, while retaining just enough to fuel their own releases.
It is companies like these that are filling the capacity deficit, alongside an increasing number of bottlers and blenders who are building distilleries to cater to their own releases. Wemyss (Kingsbarns), Adelphi (Ardnamurchan), and Gordon & Macphail (Cairn) have all set up distilleries in recent years, while Douglas Laing & Co purchased Strathearn in 2019 and have plans to build a second distillery at Clutha.
All put together, the signs point to a degree of stratification. Big companies are seeing growth in their own brands, and have less spare capacity to sell their spirit to competitors. This in turn is pushing smaller blenders to seek out self-sufficiency by setting up their own production.
As last year's export figures showed, it is a time of unprecedented expansion for the Scotch whisky industry, and some degree of growing pain is inevitable. I, for one, am very excited to find out where we go from here.
Front Page Image: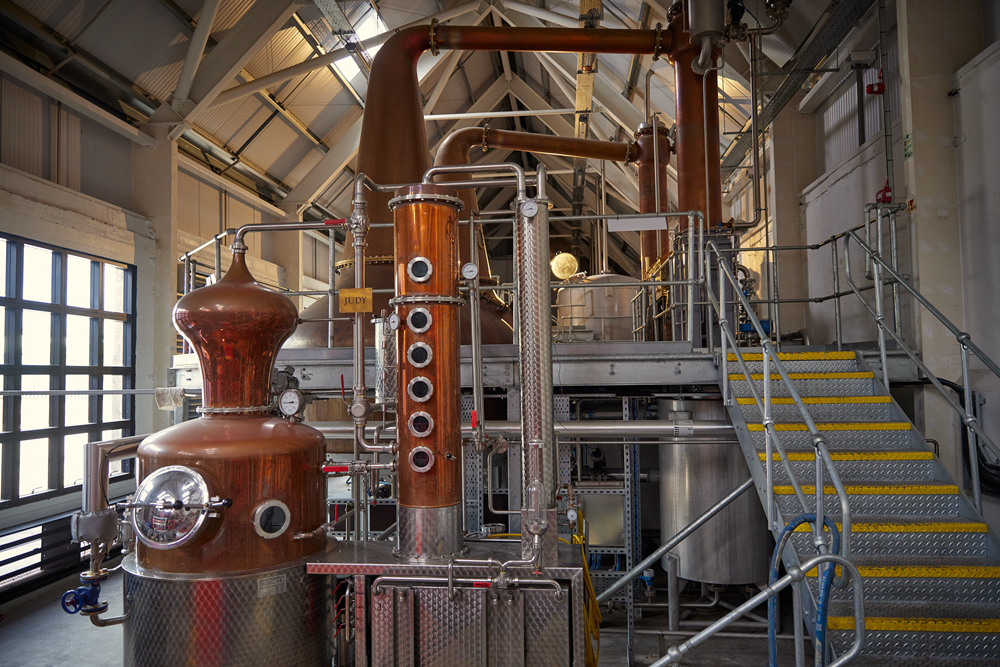 Communications Manager at WhiskyInvestDirect, Ben Challen is at his happiest when surrounded by whisky and statistics, sifting through the data to find out what makes his favourite industry tick.