Friday 17/9/2021 09:33 Tom Bruce-Gardyne
Hassle 'n Hustle: Pernod Ricard's Year in Scotch
Exclude duty-free sales and Scotch grew 18% for Pernod Ricard's Chivas Brothers whisky division in its latest annual results. But add them back in? Tom Bruce-Gardyne digs into the detail for WhiskyInvestDirect...
IF YOU FORGET the empty skies above us and all the deserted duty-free stores, then Pernod Ricard's Scotch business – known as Chivas Brothers – bounced back with a vengeance in the 12 months to June 30th.
Announcing its full-year results three weeks ago, Jean-Etienne Gourgues, Chivas' new chairman and CEO, appeared well pleased with an 18% jump in Scotch sales by value, excluding global travel retail (GTR).
It equates to a 5% rise on 2019, and "means we are beyond pre-Covid levels in the markets where Covid restrictions have been lifted," claimed Jean-Etienne.
Coming just over a month after Diageo's results for the same period, comparisons are hard to resist.
In North America the company's Scotch sales were up 19%, versus 18% for its arch-rival, while Chinese sales soared 47%, more than twice what Diageo managed to achieve there. Both firms almost doubled their Scotch whisky business in Turkey, and did well in Brazil – up 60% at Pernod (EPA: RI) and up 66%, including Paraguay and Uruguay, at Diageo (LON: DGE).
Pernod's worst-performing whisky region was Western Europe, up just 3% on last year's plague-ridden results, thanks mainly to Spain, which suffered for its heavy reliance on the bar and restaurant trade.
The company's Scotch business there was down 14% by value and Jean-Etienne described the country as "Still difficult, although it has improved during the year."
Spain's decline was offset by a hefty 22% jump in the UK, thanks to a buoyant off-trade and a huge boom in digital sales. But as the post-results press briefing progressed to discuss Chivas' individual brands, it became clear just how hard some whiskies had been hit by the global collapse in GTR.
Royal Salute, the firm's deluxe 21-year-old blend, may have leapt forwards 32% but only if you exclude all those lost duty-free sales.
Add them back in – as you must to get the full picture – and the brand's overall performance was 6% down on FY20.
The pain in this formerly crucial sector is likely to continue for some time.
"For sure we expect 'Fiscal 22' to be a difficult year for travel retail," said Hélène Tissot, Pernod's finance chief, "with very significant restrictions in terms of travel, and it's probably now around 3% of our net sales where it used to be more than twice that size.
"We expect that leisure travel will rebound very strongly as soon as borders are more open than they are now. Although it's business travel that might not recover fully to what it used to be pre-Covid."
The company's top-selling whisky – Ballantine's Finest – was 12% down in its half-year results announced in February. Now that the full-year figures are in, it posted a 1% rise on the previous twelve months, while Pernod's flagship Scotch – Chivas Regal – managed a 3% bounce after it tumbled 17% the year before.
This suggests the brand is in a state of remission, although Nick Blacknell, Chivas' marketing director, is far more upbeat than that.
"We have absolute confidence to be very quickly higher than pre-Covid levels with a booster from GTR's recovery," he declared. "We are very pleased to announce a future-forward strategy on Chivas, and we really have the ambition to be one of the leading luxury spirit brands in the 21st Century."
Blacknell then added, in fluent marketing speak, that:
"At Chivas we are retargeting a younger generation of consumers that we call the 'hustle generation'. They're largely drawn from Gen Z and young millennials who are hungry for status-driven spirits."
To satisfy this craving for status among those that both 'hustle' and bolster the brand's green credentials, Chivas Regal has just been repackaged with a new label and in a bottle with 15% less glass.
Much more is planned for this reboot strategy including, as Nick Blacknell explained, "a big collaboration we'll be announcing in October, with one of the biggest fashion brands."
For now, the star performer in the Chivas Brothers' galaxy of whisky brands is undoubtedly Glenlivet, and for once there is no need to add the caveat "excluding GTR".
The big-selling Speyside has long been a fixture in the major duty-free stores, and Glenlivet also suffered the same punitive 25% tariffs as all single malts in the US until March this year. But despite that, there was no stopping Glenlivet. It played a big role in Pernod's bounce back in America, and the brand posted strong results from Taiwan, China and the UK.
Overall, Glenlivet grew 19% last year. By any measure, that is impressive.
Front Page Image: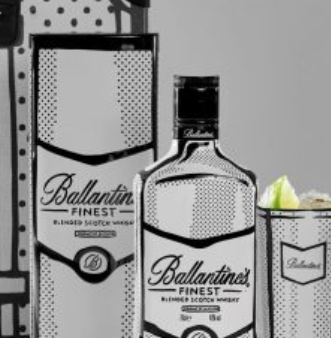 Award-winning drinks columnist and author Tom Bruce-Gardyne began his career in the wine trade, managing exports for a major Sicilian producer. Now freelance for 20 years, Tom has been a weekly columnist for The Herald and his books include The Scotch Whisky Book and most recently Scotch Whisky Treasures.
You can read more comment and analysis on the Scotch whisky industry by clicking on Whisky News.