Friday 28/5/2021 09:01 Tom Bruce-Gardyne
Drink Up, Old Man! Scotch in the UK, 2021
Dia del Padre it isn't, but Father's Day still counts for a lot of Scotch whisky sales in its home nation and the rest of the UK, says Tom Bruce-Gardyne for WhiskyInvestDirect...
In THREE WEEKs' time, Father's Day will give a boost to the Scotch whisky trade as it does every year.
In Mexico, where they celebrate their 'Día del Padre' with due respect, premium brands like Buchanan's 18 year-old are gifted on some scale.
Here in contrast, 'the old man' might receive his favourite blend or even a single malt, though he is just as likely to get a pair of novelty socks or an inflatable Zimmer frame. Mexicans wouldn't do that to their dad.
Whyte & Mackay plans to mark the occasion with a light-hearted Father's Day release in the UK, where Scotch is still huge, despite punitive taxes, ageing consumers and intense competition from other spirits.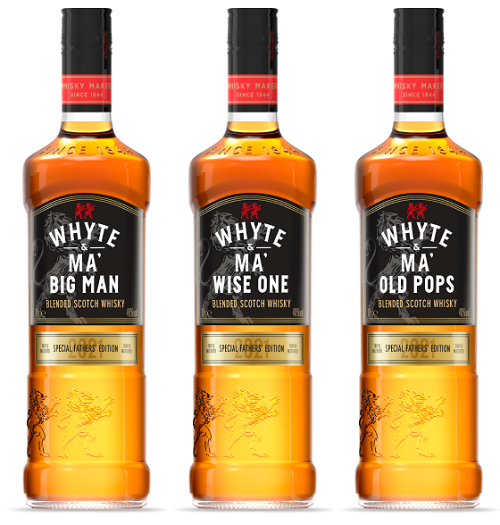 From HMRC data compiled by WhiskyInvestDirect, Britain had a 10.4% share of the total for blends and 13% of malts if you compare what's released into the market with exports. On that basis, we are second only to France on bottled blends and third behind France and the USA on single malts.
Releases are not the same as sales, but for what it's worth releases were up around 10% in the UK last year. Ruari Perry, Whyte & Mackay's head of blended whisky brands, recalls "the original panic-buying as Covid first hit last March and which went on for a few weeks, with all the toilet rolls, dried pasta and bottles of Whyte & Mackay."
Other whiskies are available, but after that early surge "the volume growth continued through 2020," he says, "and we had a really strong year on malts." Among other things, he credits the firm's investment in marketing with both Whyte & Mackay and Jura back on TV last autumn.
According to AC Nielsen, sales of blended Scotch grew 7.5% last year in the UK off-trade while malts jumped 12.5%. Whether that mopped up all the whisky unsold in bars and pubs during lockdown is unclear, yet it seems 2020 was kind to the top supermarket blends, especially the long-term leader, Famous Grouse. But the real issue for mainstream Scotch in the UK remains value and the lack of a decent margin once the taxman and the big buyers have taken their cut.
"It's very price-driven," says Whisky Shop director, John Beard. "Who wins and who loses, depends on who gets the classic gondola-end promotion at Christmas." He knows all about the cut-throat nature of the trade from his former life as a Whyte & Mackay CEO.
Within Scotch, he reckons "the very lowest prices of single malts are getting dangerously close on promotion to the top-end of blends," and notes the growing threat from "entry-level Irish and burgeoning American whiskey."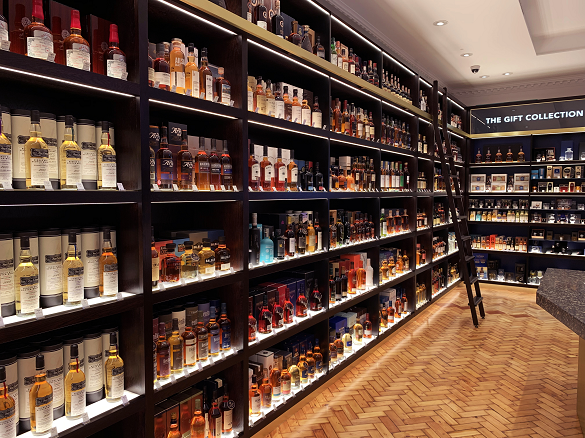 "The UK, unlike France, is not a market of specialist whisky shops," Beard continues. "We're the only UK specialist chain with 22 shops around the country and one in central Paris."
Internet sales were only 10% of the business pre-Covid, but "the last 12 months have allowed us to develop on-line far more quickly than we might have done. I think we'll come out the other side with perhaps a 60:40 split between stores and on-line, but who knows."
"Yes, on-line whisky has certainly had a good crisis," says Ian Shackleton, sales & marketing director at Ian Macleod Distillers. Describing the UK whisky market as "a bit polarised, although the premium end is very healthy," he is clearly delighted that his single malts of Glengoyne and Tamdhu are nowhere near the supermarkets which are just 'value-killers' in his view.
"The pressure to promote is huge and people get hooked on the volume," he says.
The constant deals will buy you volume but not loyalty in stores like Tesco, whose customers must be the most promiscuous shoppers on the planet as they hop from one juicy offer to the next.
In Scotland and Wales, where minimum pricing has pushed the cheapest Scotch up to £14, malts on special offer are bound to be seducing the odd blended drinker, but there must be a risk of tarnishing your brand and becoming a commodity.
At the Whisky Shop, John Beard sees single malt as "a very fragmented category," and says "people aren't really buying brands, with some exceptions, so it's more like the wine category." He has been impressed by the presentation of malts like Port Charlotte, Arran, Benriach and Benromach. "We see the impact of innovative packaging very quickly," he says.
"There's a very clear cause and effect."
Back in the mainstream, it would be great to have another Monkey Shoulder to take on Jack Daniel's, which is doing pretty well in the UK despite being hit with a 25% tariff since 2018.
Until then Scotch must rely on its time honoured traditions like the great Father's Day piss-up.
Front Page Image: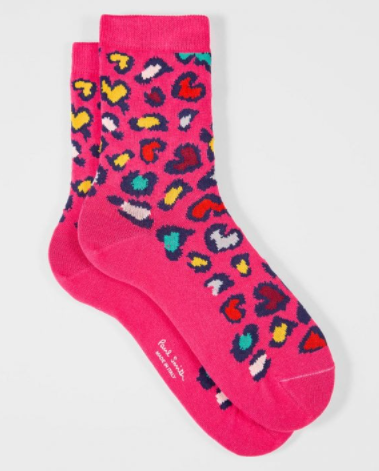 Award-winning drinks columnist and author Tom Bruce-Gardyne began his career in the wine trade, managing exports for a major Sicilian producer. Now freelance for 20 years, Tom has been a weekly columnist for The Herald and his books include The Scotch Whisky Book and most recently Scotch Whisky Treasures.
You can read more comment and analysis on the Scotch whisky industry by clicking on Whisky News.