Friday 15/1/2021 10:01 Richard Woodard
Single Malts vs. Blends in Scotch Whisky's Fantasy League
If million-case single malts are in the Premiership of Scotch Whisky, might a lowly blend like Crawley Town beat their Leeds United? asks Richard Woodard for WhiskyInvestDirect...
SINGLE MALTS are now the driving force behind the growth of Scotch whisky around the world, at least in terms of value.
In 2019 they broke through the £1.5bn barrier for the first time, accounting for 30% of export earnings, though still only 11% of total volumes.
The clear distinction between single malts and blends is a cornerstone of people's early learning about the different types of Scotch whisky.
Single malts: the product of one distillery in a defined location.
Blends: the combination of a number of single malts and grain whiskies.
But are the two really so very different? According to a 2017 study in the journal Flavour, the answer is no.
A series of blind tastings conducted in the UK, the US and France among novices and experts delivered the following conclusion: "The firmly established making and marketing distinction between blends and single malts corresponds to no broad perceptually salient difference for whisky tasters, whether experts or novices."
In other words, those involved in the study couldn't tell the difference.
Delve more deeply into the making of single malts at scale and those conclusions are less surprising. The best-selling malts in the world, Glenfiddich and The Glenlivet, now shift more than 1m nine-litre cases a year. Macallan isn't far behind them, while Glenmorangie sits around the 500,000-case mark.
Those making these products have the same goals (and, in some cases, are the same people) as those making the leading blends. They want character, complexity, balance and consistency – so that the end consumer enjoys the whisky and can rely on it tasting the same, time after time.
"With single malts, the principles are exactly the same as blending," says Glenfiddich malt master Brian Kinsman. "There's really no difference. Of course, you're only dealing with one distillery, but the positive thing there is that you have consistency if the new make spirit is good."
The process of making Glenfiddich's best-selling 12-year-old expression will be familiar to anyone versed in blends (minus the multiplicity of malt and grain whiskies involved). Decide on your 'recipe' of whisky cask types – in this case, first-fill Bourbon, refill European oak and European Sherry cask – produce this on a fairly large scale, then combine multiple batches of your 'recipe' in large (2,000-litre) marrying tuns, so that the liquid can mellow down and harmonise.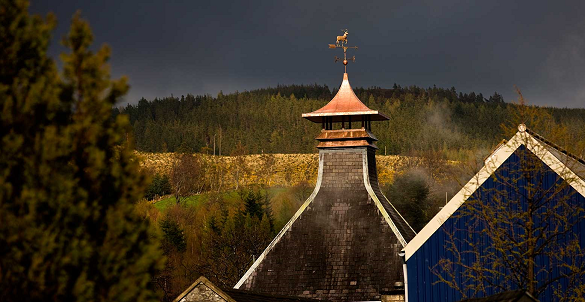 Along the way, there are numerous checks and balances, such as in-cask sampling and the separate vatting of American and European oak whiskies so that any discrepancies can be picked up and ironed out.
"If the Sherry is particularly intense, we might tweak the ratio," explains Kinsman. "But the theoretical recipe stays the same. It only really changes based on actual performance [of the maturing whisky]."
Although the minutiae of production will vary, it's a story familiar to Sandy Hyslop, director of blending and inventory at Chivas Brothers, and the man responsible for making – among others – The Glenlivet and Aberlour.
"The formula for Glenlivet 12 Year Old is probably more complicated than some standard blended whiskies that are out there," he says. "We're using barrels, we're using hogsheads, we're using butts, we're using first-fill casks, we're using second-fill casks, we're using a range of age from 12 up to about 13-and-a-half years old.
"I could probably very easily make five or six hugely different expressions of Glenlivet 12 Year Old or Aberlour. Aberlour's a great example – it's wonderful with Sherry cask maturation, but we could do an American oak edition. We could play tunes with different kinds of finishing."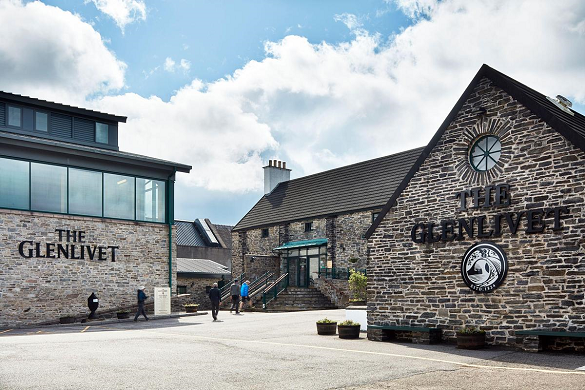 However, not all large-scale single malts are quite as complex in production terms as The Glenlivet or Glenfiddich. "Glenmorangie Original is not very complicated at all," says Brendan McCarron, head of maturing whisky stocks at Glenmorangie and Ardbeg.
With mineral-rich water, a mash tun producing clear wort, stainless steel fermenters and lots of reflux through copper contact in those famously tall stills, Glenmorangie is perfectly set up to produce the clean, floral and fruity spirit for which it is renowned.
Maturation is also relatively straightforward. "We only use ex-Bourbon Quercus alba American white oak, and we only use it twice," says McCarron. "It's really quite strict, with not many variations." The 'blend' is roughly 60% first-fill, 40% second-fill. "Then we check. If it doesn't pass, we might add more first-fill or second-fill."
In their quest for repeatable quality and consistency, large-scale single malts have more in common with blends than they do with, say, a single cask single malt whisky. But, as their sales grow and they become ubiquitous in shops and bars around the world, does their familiarity risk breeding contempt among whisky drinkers?
"I suppose it's a risk, but I would imagine someone in the brand team would argue that it's their job to make sure that doesn't happen, always reinvesting in the brand and the messaging," says Kinsman at Glenfiddich. "Brand ambassadors are hugely important here too."
"I think there's still so much to be discovered in single malt," adds McCarron. "Some countries are only just beginning to discover single malts, after all. The industry has expanded, but single malt is still actually quite small [11% of total Scotch volumes in 2019].
"I took a group of friends from America to Cardhu a while back. They said it's all very nice, but where's the real distillery? They thought it was too small, like a farm.
"Sometimes we forget that our industry is smaller than we might think."
Richard Woodard has been writing about spirits and wine for 20 years, editing and contributing to a number of magazines and websites, including Decanter, The Spirits Business, just-drinks.com and Club Oenologique. He was also one of the founding editors of Scotchwhisky.com.