Friday 26/2/2021 10:13 Ian Wisniewski
Water in Your Digital Dram? How Scotch Whisky Is Using Social Media in Lockdown
Unsociable times call for social media, and the Covid pandemic and lockdowns have pushed ever more of Scotch whisky's marketing drive online, reports Ian Wisniewski for WhiskyInvestDirect...
WHEN Twitter and Facebook banned Donald Trump in January he was hardly put on mute, but couldn't communicate as readily.
And with the pandemic putting social media at the core of our lives, not being present is a major absence.
"Ofcom figures show UK daily internet use at home increased 15% from September 2019 to April 2020, with the average adult spending more than four hours a day online," says Kristiane Sherry, editor, Master of Malt.
"Leisure especially has become digitalised. This is a seismic shift with huge implications for retailers in general, and the drinks industry."
As social media encompasses brand building and communication, the implications are it can replace traditional, big budget marketing which relied on TV and billboard advertising.
"Social is a true equaliser – the accounts that win are those managed by sharp minds that know their audience inside out, and are able to produce extremely creative content," says Kristiane.

Exactly. It's got to be cool, which requires expertise, so social media is hardly a cheap option.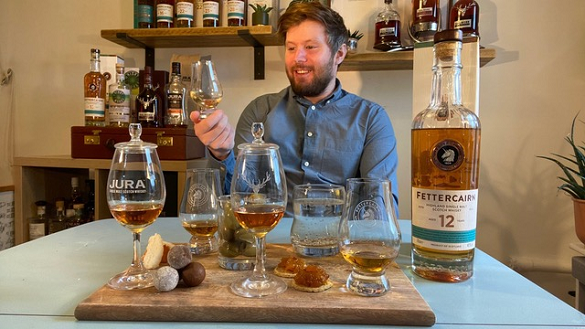 "You have 2-3 seconds to make an impact and catch people's attention as they are scrolling, so you need engaging and distinctive content," says Susie O'Donoghue, global head of planning and strategy, William Grant & Sons.
One way of being distinctive is making it personal, as Andrew Lennie, Fettercairn brand specialist at Whyte & Mackay, explains: "I bring my own personality into my Instagram account. And I'm not just posting about Fettercairn but the whisky world and my interests – whisky and music, whisky and food, which gives you more credibility."
The more comprehensive the content, the more you can fulfill expectations. "We're really conscious that our customers, fans and followers want to get something back from us on social, whether that's education, entertainment, or just a gift idea," says Master of Malt's Kristiane Sherry.
The approach also needs to be tailored to each platform. Facebook for example attracts more 'mature' audiences, prepared to stay longer. "On Facebook Live we host longer videos and posts to educate and engage our customers about drinks and how to enjoy them," says Alice Endersby, social media manager, The Whisky Exchange.
By contrast "Twitter has traditionally been the home of the 'whisky geek'," says Kristiane, "while Instagram has become increasingly interactive, with features such as 'Lives' and 'Story' that encourage engagement." (You can follow the geeks of WhiskyInvestDirect on Twitter here.)
Utilising various platforms even provides a springboard for an e-launch. "Relaunching BenRiach, since September 2020, has been almost entirely on-line," says Douglas Cook, director of Scotch whisky advocacy, Brown-Forman. "So social media has been very important."
On-line tastings inevitably play their part, but also need to be distinctive. "When lockdown began we had a think-tank to create concepts, and not just go youngest to oldest drams," says Andrew Lennie at Whyte & Mackay. "Two or three people from the distillery with different perspectives host tastings, making them more conversational than a presentation."
To which Iain Weir, brand director, Ian Macleod Distillers, adds: "We've had very successful tastings with real sales growth on our website and those of our speciality retailers."
While e-commerce has flourished during lockdowns, the bar world (ordinarily influential in a brand's career) has been barred.
"The past year has seen a focus on how to continue engaging with the on-trade," says William Grant's Susie O'Donoghue. With lockdown shutting distillery tours across Scotland, "One initiative was setting up virtual tours of the Balvenie distillery with some key accounts who invited customers."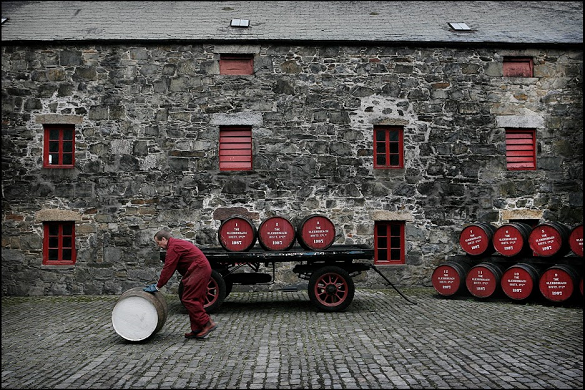 Distillery visits are currently only virtual, but also interactive at Ian Macleod's Glengoyne "One of our tour guides presents videos and hosts a live tasting, even if it's 2am in the morning," says Iain Weir. "Consumers prefer it to be live."
'Real time' events are more enticing than pre-recorded videos which can be viewed whenever. Glenfiddich, for example, hosted a global 24 hour live whisky tasting on Instagram.
As for the mother of social media – namely websites, which is all we had in the dawn of the digital age – Eleanor Robson, social media manager, Wemyss Malts and Kingsbarns Distillery says: "People come to social media before the website. We have great conversations on social media, but the website is the ultimate destination where they can learn so much more."
Social media's future is certainly assured, but opportunities remain unknown.
"The rate of innovation is ferocious, keeping up with it is a full-time job, I think there will be greater connectivity between different digital spaces, gaming, e-commerce, social media," says Susie O'Donoghue at William Grant.
Master of Malt's Kristiane Sherry adds, "Issues like privacy will become more important, and regulation and legislation will have enormous impacts on how new platforms come to life."
Front Page Image: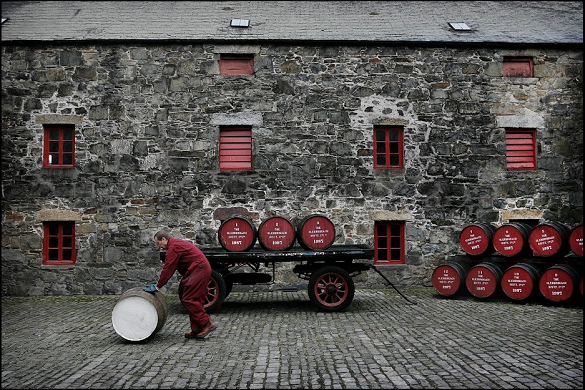 Ian Wisniewski is a freelance writer and leading authority on spirits, with a focus on Scotch whisky. Over the course of his two decades covering the industry he has published seven books, including the Classic Whisky Handbook, and has contributed to publications such as Whisky Magazine, The Times, The Malt Whisky Yearbook and Scotchwhisky.com.
You can read more comment and analysis on the Scotch whisky industry by clicking on Whisky News.