Friday 5/3/2021 12:46 Tom Bruce-Gardyne
Covid's Not Quite 'Lost Decade' for Scotch Whisky Sales
While the whisky industry celebrates the suspension of US tariffs, it may take more to repair the damage of 2020. Yet there are definite bright spots on planet Scotch, says Tom Bruce-Gardyne for WhiskyInvestDirect...
WHAT a difference a year makes.
Twelve months ago, the Scotch whisky industry had just posted its best-ever results with the equivalent of some 1.3 billion bottles exported in 2019, worth £4.9 billion.
While volume figures tend to be vague, given that a quarter of all Scotch is shipped in bulk and often bottled as something else, be it Indian or Japanese whisky, it was still a record worth toasting with a few drams.
The subsequent hangover has been vicious with £1.1bn wiped off the value of shipments and volumes down 13% in 2020 as the Covid Crisis shut pubs, bars, restaurants, weddings and pretty much all other celebrations worldwide.
It was in effect 'a lost decade of growth' in one year lamented the Scotch Whisky Association on the release of HMRC's end-2020 export figures, quick to blame those US tariffs on single malts – now suspended to much celebration this Thursday – as well as the pandemic for its impact on travel retail and the on-trade.
If your brand of Scotch was at all dependent on duty-free or markets driven by bar sales like Spain (down 40% in volume and value) 2020 was a bit of a car crash. But to make sense of it all you have to delve deeper and consider the longer-term trends.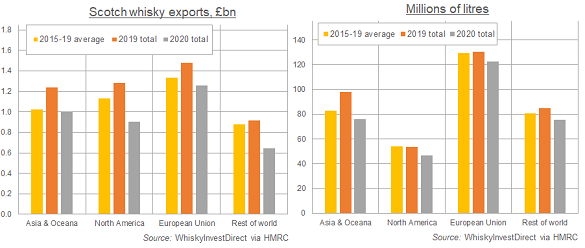 Shipments are not the same as sales and there is always a time lag especially in Scotch whisky's biggest-spending customer, the USA, with its three-tier distribution system of importer, wholesaler and retailer. For any non-delusional brand-owner, how much un-sold stock in the pipeline is just as important as how many containers of whisky were shipped.
Looking at the States, Scott McCroskie, CEO of the Edrington Group which owns Macallan, told me: "At the start of the year we saw quite a lot of de-stocking by the trade of big malt brands.
"People had bought in ahead of the tariffs, but then came Covid and they were suddenly overstocked."
The latest HMRC export data confirm this. In 2019 there was a spike in US imports of single malts to beat the tariffs in October, which was followed by a 17.5% fall last year. But comparing the previous five-year average with 2020 is probably a more useful insight, and if you do you will find the same figure of around 1.7 million cases of single malt a year.
As for sales, the Distilled Spirits Council of the US (DISCUS) reports a 7% fall last year, which puts the malt category back to where it was in 2018 – so not quite 'a lost decade'.
However, there was certainly a sharp drop in the value of shipments, with the average single malt a fifth cheaper than last year which suggests the industry absorbed much of the 25% tariff. Pernod Ricard clearly did to keep its flagship Glenlivet Founders Reserve at or below US$30 on the shelf, and sales remained buoyant as a result.
Americans actually bought a few more bottles of blended Scotch than the year before according to DISCUS, though the overall trajectory remains one of gentle decline. That is offset by growing single malt, but the overall impression is of a category treading water.
Meanwhile, as Scott McCroskie says: "There's a spirits boom going in the States at the moment if you look at the growth in categories like Tequila, Cognac and American whiskey, and Scotch isn't part of that."
Globally, the top three regions – the EU, Asia & Oceania and North America – collectively account for 83% of Scotch exports by value, and they were well down last year. However, if you pan in to track some of the key markets, there are bright spots particularly among the BRICs, the early 21st Century's boom economies.
Shipments of bottled blends to Brazil jumped 20% last year, helping to push the country into fourth place behind France, the US and India in the volume charts.
Even better was Russia, the vast majority of whose whisky comes via Latvia where they apply the tax stamps for the Russian market. In 2020 Latvia became the fifth most valuable export market for Scotch, up 25% to £176 million.
While India is more of a mixed picture, it depends whether you're talking bulk exports or bottled blends. The latter fell 25% in volume last year which is back to around 2017, but the underlying trend remains very positive.
Lastly to China, whose import figures have zig-zagged over the years whether direct or via Singapore. For what it's worth, direct shipments of bottled blends fell 16% in volume while single malts surged and were up 43% in value to £66 million.
No, one swallow doesn't make a summer, and the same is true of volatile Brazil and Russia. But it's an encouraging sign nonetheless – and the depth of 2020's overall decline in Scotch whisky sales sets a low bar for 2021's rebound.
Front Page Image: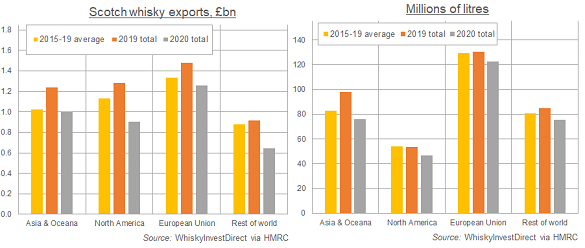 Award-winning drinks columnist and author Tom Bruce-Gardyne began his career in the wine trade, managing exports for a major Sicilian producer. Now freelance for 20 years, Tom has been a weekly columnist for The Herald and his books include The Scotch Whisky Book and most recently Scotch Whisky Treasures.
You can read more comment and analysis on the Scotch whisky industry by clicking on Whisky News.