Tuesday 29/12/2020 12:35 Tom Bruce-Gardyne
Scotch Whisky in the Year of the Plague
Covid, US tariffs, and possibly the hardest Brexit imaginable. But 2020 hasn't all been bad for Scotch whisky giants Diageo and Pernod Ricard reports Tom Bruce-Gardyne for WhiskyInvestDirect...
"IT'S GOING to be UN-believable. It's going to be a year like no other," declared my daughter twelve months ago with utmost confidence.
Well, Molly, you can say that again – for 2020 has left us all reeling and yearning for normal life to resume. And with the advent of new variants of Covid, the vaccine roll-out only just starting, and the fallout from Brexit still to come, normality seems some way off.
How the year has impacted Scotch whisky exports also remains to be seen. We won't know the HMRC shipment figures for 2020 until early February, but we do have a partial picture from the year-end results (FY20) of the two biggest players.
In the 12 months to June 30th, global sales of Scotch fell 17% at Diageo (LON: DGE) and 11% at Pernod Ricard (EPA: RI). Diageo recently announced plans to shed 22 jobs among the 550 employed at its malt whisky distilleries. That said, the delayed Johnnie Walker Experience in Edinburgh, will create around 150 new posts when it opens – surely? – next summer.
Investment bank Credit Suisse compared the two companies in its European Spirits report in November, and it predicts that while both "look well placed for a solid recovery", Diageo would recover faster with organic revenue up 8.5% in FY21 versus 6.1% for its French rival.
Much of the reason lies with "the robust US market". It accounted for 45% of Diageo's pre-Covid profits compared to 27% for Pernod. Thanks to the strength of America's off-trade sales during lockdown, spirits were up 11% by value in the third quarter despite a 40% slump in bar and restaurant sales.
References to Scotch are few and far between in Credit Suisse's 41-page report, but a chart showing July-to-September's year-on-year change in US sales puts Scotch up 12% by value, double the growth of Vodka and Gin, but well behind US whiskey, Tequila and Cognac.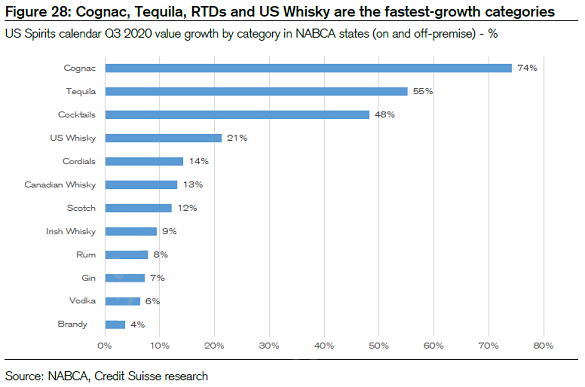 The other reason for rating Diageo ahead of Pernod is a lower exposure to global travel retail – aka duty free – which for both companies is forecast to be 58% down in 2021 compared to 2019 according to Credit Suisse. But the bank fails to mention Trump's tariffs on single malts, which according to the Scotch Whisky Association have shrunk Scotch shipments to the US by almost a third at a cost of £400 million in lost trade so far.
There was a glimmer of hope in July that the 25% tariff on single malts might be dropped or lowered, but while that cost remains in place, at least it wasn't extended to blended Scotch.
Since then, we've had a US election and the promise of a less confrontational regime in the White House. Yet the EU is now the latest to escalate the trade war over steel, aluminium and aircraft subsidies, extending its 25% hit on US whiskey to American rum, brandy, vodka and vermouth on November 10th.
Britain has announced it will suspend these tariffs on finally quitting the EU on December 31st, a token gesture of goodwill given that we don't import much American rum or brandy. But US trade representative Robert Lighthizer took note. In a rare interview he hinted that the trans-Atlantic whisk(e)y trade may be tariff-free before long.
And yet it seems the US tariffs may actually be fuelling demand by raising prices and adding perceived value. As we reported on Pernod's results, sales of Glenlivet – America's favourite single malt – jumped 6% in the first half of this year despite costing US consumers $8-10 a bottle more. Diageo's malts have also been growing, albeit by a modest 1%.
Blended Scotch of course remains the biggest category and the big issue for 2021, most especially in whisky's mature markets. Despite being Diageo's pride and joy with marketing resources to die for, Johnnie Walker saw sales tumble 22% in the year to June 30th. Diageo's North America president, Debra Crew, repeated the company line in a November call with investors, saying that it was simply due to "lapping the Game of Thrones' White Walker" – the hugely successful brand tie-in with streaming TV giant HBO in 2019.
By next year that excuse will have worn thin.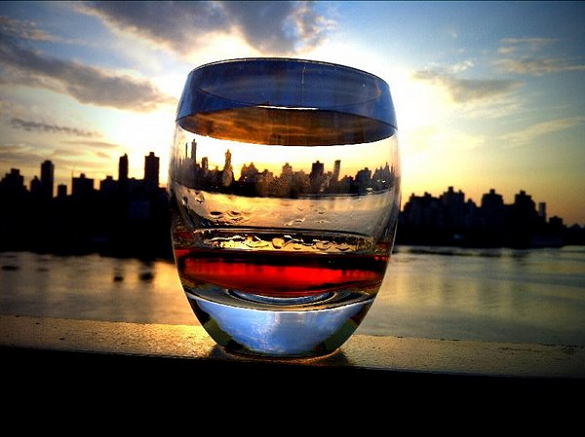 Crew explained that Johnnie Walker is seeking to attract a younger demographic of 25-44 year-olds, and it also wants to re-establish its Keep Walking tagline. The brand now features 'You'll Never Walk Alone' sung by Brittany Howard from Alabama Shakes in a new ad launched on the night of the US election.
"Great song, really appropriate for 2020, but really a great way to bring Johnnie Walker into the conversation today and bring real relevancy," said Debra Crew.
For whisky's biggest name, the year ahead will be critical. But overall, Scotch has proved remarkably resilient in this year of the plague. Many brands were able to offset losses in bars and airports through growth in retail and the surge in e-commerce, which jumped 92% at Pernod Ricard for its UK spirits in the year to June 30th.
The long-term nature of the industry is also surely a benefit in these febrile times. Just think of all the spirit now on its slow journey to becoming Scotch, slumbering in the depths of a warehouse, blissfully unaware of all that's been going on, and not set for bottling and sale until 2030 on average – a decade beyond this unbelievable year.
Award-winning drinks columnist and author Tom Bruce-Gardyne began his career in the wine trade, managing exports for a major Sicilian producer. Now freelance for 20 years, Tom has been a weekly columnist for The Herald and his books include The Scotch Whisky Book and most recently Scotch Whisky Treasures.
You can read more comment and analysis on the Scotch whisky industry by clicking on Whisky News.