Friday 8/1/2021 11:00 Tom Bruce-Gardyne
Scotch Whisky: Big in America, But for How Long?
Like any self-respecting British rock star, every Scotch whisky brand dreams of making it in the States. But the biggest, baddest drinks market of them all may be getting tougher to break reports Tom Bruce-Gardyne for WhiskyInvestDirect...
SO FAR 2021 seems remarkably similar to the awful year just passed, as we plunge back into lockdown with bars and restaurants shuttered for at least a month.
This is a picture replicated in the USA, the world's most valuable Scotch whisky market.
Lockdown 2020 actually boosted US booze sales according to a recent webinar from the Wine & Spirit Wholesalers of America (WSWA). Sales of spirits were up 5.4% in the year to September, thanks to a 13.6% rise in retail sales which more than offset a 31.4% collapse in the on-premise.
Scotch didn't really play a part in that uplift however, slipping 1.8% on data from SipSource, while US whiskey and Canadian whisky were buoyant and "cocktails" (aka hard seltzers in the ready-to-drink category) soared.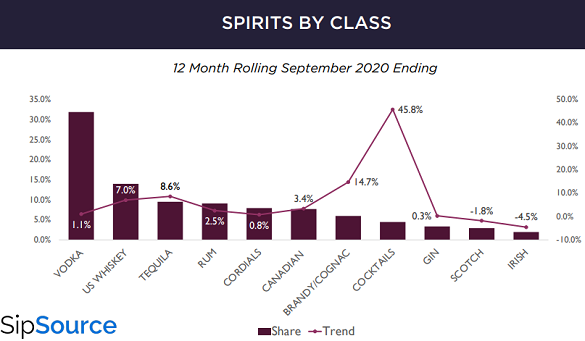 This might worry Scotland's distillers, if not quite as much as Ireland's. In 2019 bottled blends shipped to America were worth £648 million, 21% of all exports of Scotch whisky, while single malts made £377 million, or 26% of the total.
We're now collating the 2020 data to share with you on WhiskyInvestDirect next month, just as soon as the December figures are released by HMRC. But addressing the US market looks a more urgent issue for the industry.
"I always remember people saying that America's number one, but America's a very tough nut to crack," recalls the veteran master blender, Richard Paterson.
In a 50-year career with Whyte & Mackay, he saw numerous attempts to do just that.
"You have to be there for 10 to 15 years, and throw a huge amount of money at it," he says. "And even then, you are not guaranteed to succeed, and you've got to get into bed with the right agent."
An inability of find such an agent explains why Whyte & Mackay Special, then a top five blend in the UK, pulled out of the States in 1980 never to return. Today, the company has a small US presence with its John Barr blend and its range of single malts, but Paterson – who has stepped back from his day job to focus on Dalmore and to be master blender in the yet to be built Wolfcraig distillery – sees more potential in Asia.
Back in the USA, any Scotch distiller hoping to make it big has to negotiate the country's notorious three-tier distribution structure, whereby independent wholesalers sit between the importer or agent and the retailer or bar owner.
The past decade has seen a massive consolidation among wholesalers with the leading player, Southern Glazer's – itself formed from a merger in 2016 – now in 44 States and covering approximately 90% of the legal-drinking-age population. With revenue estimated at $17.5 billion in 2019, Southern Glazer eclipsed even Diageo, whose turnover that year was $16.4 bn (£12.8bn).
In second and third place among wholesale distributors come Republic and the Breakthru Beverage Corporation, whose planned merger was pulled in early 2019 after almost 18 months deliberation due to the US Federal Trade Commission's concerns over 'anticompetitive harm'. As Margie Lehrman, CEO of the American Craft Spirits Association, said: "Anytime there's any kind of consolidation, it's one less avenue to get your product to market."
What's true for a US craft spirit is true for many a smaller Scotch whisky brand. If you succeed in gaining distribution through Southern Glazer for example you will be joining over 5,000 other brands, albeit divided into myriad subdivisions. In the past these were listed in books the size of phone directories lugged around by sales reps, and although the books have been replaced with i-pads, gaining any share of voice is tough to say the least.
"In the four-minute conversation the sales guys have with the store manager they're going to push the big brands," says Jacob Ehrenkrona, CEO of Martin Miller Gin. "The distributors control everything, and they're controlled by the bottom line, which comes from the big drinks companies." These will all have dedicated sales teams working inside their distributor and sizeable marketing budgets to share.
Three-tier distribution is a hangover from US Prohibition to prevent the supposed evils of vertical integration like the brewery-owned pubs of Britain. It has been accused of being wilfully inefficient and of hiking US alcohol prices by as much as 25%, though it does have plenty of supporters. Its slow evolution may have accelerated during the pandemic as individual States have loosened the rules to try and help bars and restaurants survive, but the system itself appears pretty robust.
As the former industry analyst, Ian Shackleton, wrote in Just-Drinks: "I have always had a view that there is too much vested interest in what is a hugely profitable market, for suppliers and distributors alike, for them to change lightly." Added to which their trade body, the WSWA, packs a political punch in terms of lobbying.
So how to address the 2020 slip in US Scotch whisky sales?
The incoming Biden administration could certainly help by dropping the punitive tariffs on single malts imposed amid Trump's fight with the European Union, which Scotland – as part of the UK at least for now – finally left on New Year's Day.
Those tariffs have shrunk US shipments by 30% since their introduction in October 2019 claims the Scotch Whisky Association. Yet the long-term trend is positive, with malt sales doubling in the past decade according to the Distilled Spirits Council of the US, and with America's top-selling brand – Glenlivet, up 6% in the first half of 2020, despite a tariff-inspired price rise of US$8-10 a bottle.
The real issue however remains blends, and many will be watching Johnnie Walker. If Diageo's pride and joy, the biggest name in blended Scotch, cannot return to growth in America this year, you have to wonder who on earth can, even while US sales of other spirits increase.
Award-winning drinks columnist and author Tom Bruce-Gardyne began his career in the wine trade, managing exports for a major Sicilian producer. Now freelance for 20 years, Tom has been a weekly columnist for The Herald and his books include The Scotch Whisky Book and most recently Scotch Whisky Treasures.
You can read more comment and analysis on the Scotch whisky industry by clicking on Whisky News.