Friday 18/6/2021 11:31 Ian Wisniewski
Scotch Whisky in Germany: Can't Get Enough of the Good Stuff!
Now Scotch whisky's 6th biggest export market, Germany is set for full re-opening this week. Ian Wisniewski delves into the on-trade tastes and online trends of Europe's richest economy for WhiskyInvestDirect...
FRIDAY 18th June should see German restaurants and bars finally allowed to serve customers within the premises, after seven months Covid-closure.
Hotels re-opened on June 11, and outdoor restaurant space on May 21. What does it all mean for Scotch whisky in this, its sixth most valuable export market?
Germany shipped £139m of Scotch last year, down 25% on 2019 when it was the fifth biggest by value according to HMRC figures collated by WhiskyInvestDirect.
In terms of volume, Europe's biggest economy imported the equivalent of 43 million bottles of Scotch, down 14% on the previous year but enough to push Germany up into sixth place, leapfrogging Mexico in the process.
So much for the big picture. The effect of on-trade re-openings depends on how many venues actually re-open, and what their customers now want to drink. Pre-Covid most bars offered around 20 inexpensive whiskies, with only around 10 whisky bars offering more than 100 bottlings across the country.
Retailers in contrast never closed, with most of the volume down in the bargain basement in the supermarkets. "Price is clearly an important driver for Scotch, especially blends," says Nadège Perrot, international marketing manager whiskies at La Martiniquaise, whose brands include Label 5 and Cutty Sark, "and half of annual volumes are in the lowest price band.
"Supermarkets meet consumer expectation with constant promotions and therefore brand fidelity in this segment is quite low. Even Queen Margot [from Lidl] and Statesman [from competitor supermarket Aldi] show signs of decline, because of the promotions of discounters with international brands."
While many German consumers regularly trade down in terms of price, trading up from blends to entry level malts is usually occasional. But lockdown has also changed some habits.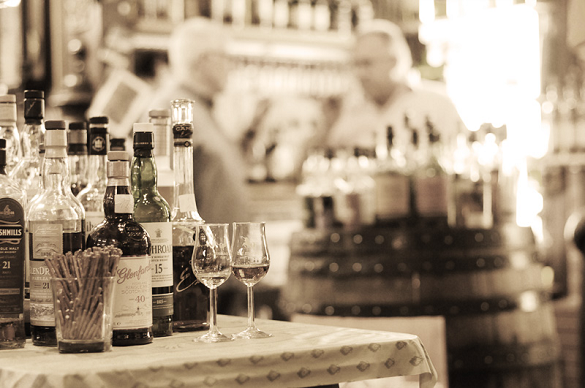 "People couldn't go out to restaurants or go on vacation so they wanted to treat themselves," says Christoph Kirsch, CEO & owner, Kirsch Import.
"Instead of buying a €30 bottle of whisky they were looking to spend €50 or €80 on a bottle."
For whisky lovers the choice between blends and malts is clear. "Even though there is continual talk about how good blends can be, they are seen either as the inexpensive option or not as good as malts," says independent spirits consultant and educator, Julia Nourney.
"Few people consider blends to be cool, and only a few companies such as Compass Box are innovating."
Not that all malts are considered equal. "People are 100% crazy for Islay, across a range of peating levels to even unpeated Bunnahabhain," says Kirsch. "Another big trend is sherry cask-matured. The darker and more extreme, the more people love it. They are looking for extreme flavours rather than longer ageing. Longer ageing is not as important as it used to be, though an age statement remains important unless a malt is under €35."
Drinks retailers in Germany, like their peers worldwide, have naturally benefitted from the ecommerce boom. But while "the pandemic has accelerated online sales growth," says Andrea Spinello, export sales manager at International Beverage Holdings – whose brands include Old Pulteney, Balblair and Hankey Bannister – the rise "is not as marked as in other European markets."
Germany has however seen "a massive acceleration of people doing tastings at home since Covid," says the blogger WhiskyJason, who has been streaming daily YouTube videos for the past four years and now gives tastings, educational features and round-table discussions with distillers online.
Indeed, single malt sales in Germany are mostly off-trade rather than in bars and restaurants, and the channel has been strong during the pandemic.
Tastings also provide an insight into the changing profile of whisky lovers. "I used to have all-male audiences, in the past 5-10 years more women have come in, and people from their late 20s whereas it used to be mid-30s," says Julia Nourney.
"These are young professionals with the income to have a hobby considered exclusive."
Prior to the pandemic, whisky fairs like Limburg had become "an important part of the whisky journey for many German consumers," says Andrea Spinello. "Some may be reluctant to visit a store unless they know what they want to buy, so shows give them a chance to taste, learn and interact."
Inevitably such events have been curtailed since Covid, unlike on-line auctions where "there's growing interest in buying blends bottled in the '60s, '70s and '80s, which many consider 'the good old days'," claims WhiskyJason.
Overall, despite growing interest in Irish and Japanese whisky, the category's status would appear assured, at least at the top end. "Single malt Scotch whisky is such a big brand in itself. I don't see a category challenging that," says importer Christoph Kirsch.
"What worries me about the future is having enough stock, and enough of the good stuff."
Front Page Image: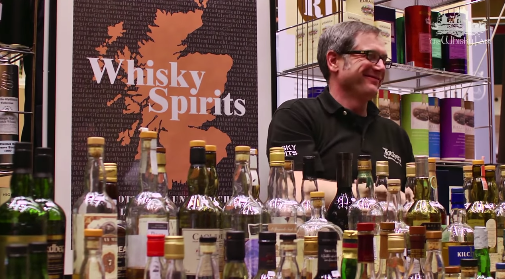 Ian Wisniewski is a freelance writer and leading authority on spirits, with a focus on Scotch whisky. Over the course of his two decades covering the industry he has published seven books, including the Classic Whisky Handbook, and has contributed to publications such as Whisky Magazine, The Times, The Malt Whisky Yearbook and Scotchwhisky.com.
You can read more comment and analysis on the Scotch whisky industry by clicking on Whisky News.