Friday 6/8/2021 12:49 Tom Bruce-Gardyne
Scotch Whisky's Top 10 Brands: Blended Rules, Okay?
Single malts might lead the chatter, but blended Scotch whisky still rules the drink's Top 10 says Tom Bruce-Gardyne for WhiskyInvestDirect...
DIAGEO, the world's biggest player in Scotch whisky, is emerging from the pandemic in "remarkably resilient shape" claimed one analyst after the firm posted its full year results to June 30th last Thursday.
Next week we will look at the results in depth, and explore what they mean for the category.
But now feels a good time to consider Johnnie Walker – the brand dearest to Diageo's heart – and its rivals among the top ten best-selling Scotch whiskies.
These brands are the great ambassadors of Scotch, representing it in every far-flung market you could possibly imagine and keeping the malt and grain distilleries that supply them in business.
The fact that all of the world's Top 10 Scotch whiskies are blends – rather than any single malt brands – runs counter to the popular narrative. As Dr.Nick Morgan, Diageo's former head of whisky outreach, told me a few years back:
"I'm always astonished that single malts account for 5 or 6% of the business, but they gobble up around 94% of the conversation."
He has a point, albeit overstated. According to last year's HMRC figures analysed by WhiskyInvestDirect, exports of bottled blends totalled 58.4 million cases versus 10.7m for single malts.
While slipping again as a proportion of their combined value, bottled blends still accounted for 63% in 2020.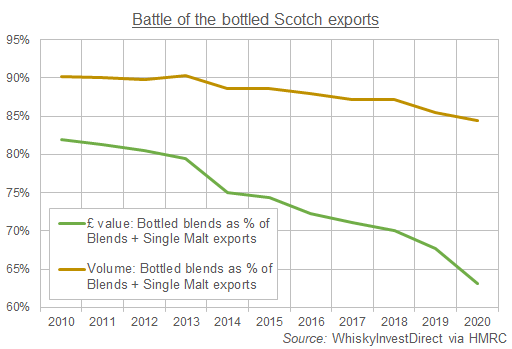 Added to which, you have to consider all those bulk blends, exported and then bottled-in-market like Teachers and Vat 69 in India. That boosts last year's blended volume figures by the equivalent of another 13.4m cases.
Among all this vast quantity of blended Scotch whisky, compiling the Top 10 is far less fluid than the pop charts. In fact, it's more akin to the Scottish premier league with Johnnie Walker as dominant as Celtic.
Having stumbled badly in last June's results, the Striding Man regained some of his composure with net sales of around 16m cases for the past 12 months, albeit still down on the 18.4m cases he achieved in 2019 before the pandemic, or the all-time high of 20.1m in 2013.
Johnnie Walker's greatest strength is surely the rock-solid commitment of its parent, Diageo (LON: DGE). No other blend matters more to its owners, and no amount of money seems spared in its promotion.
You only have to consider last year's Johnnie Walker book, the lavish Johnnie Walker feature-length documentary and the new Johnnie Walker Experience – a true temple to the brand that's due to open in Edinburgh on September 6th.
Nothing can match JW for its global reach and depth of portfolio, from Red and Black Label to Blue and Gold and all colours in between. So, wherein lies its weakness?
First off, travel retail, a sector devastated like no other by the pandemic. Its sales there were pushing 3m cases, three times its nearest rival (Jack Daniel's) in 2019.
Then, there's the fickle nature of mainstream blends where consumers flip from one discounted brand to the next, which can't make life easy for JW Red, plus the fact new-to-Scotch drinkers may be bypassing blends for malts in markets like the US.
That said, the higher up the Johnnie Walker price ladder you climb, the more the power of the brand shines through.
So much for Celtic – what of Rangers, Herts and Partick Thistle to stick with the football analogy? Ballantine's has long been in second place with annual sales at 7.2m as of June 30th 2020, and down 12% in the second half of the year. We will have to wait for year-end results from Pernod Ricard (EPA: RI) in a few weeks to see what kind of post-Covid bounce it has enjoyed in 2021.
Ignoring travel retail, Ballantine's Finest and the new Ballantine's 7 were already back in growth by 2%, in the six months to December 31st. Its reliance on Western Europe and lack of traction in more premium expressions have been a weakness, but the brand has been doing well in Eastern Europe.
Next comes Grant's, owned by William Grant's and with estimated sales of 3.6 million cases in 2020, down 14% on 2019. A year earlier the blend greatly expanded its range to include 'Triple Wood Smoky' and 'Grant's 8-year old sherry cask finish' among others, but today the focus has shrunk back to its 'Triple Wood' mother brand, and 'Triple Wood 12'.
But given the success of its malts from Monkey Shoulder to Balvenie, one wonders how committed William Grant's really are to blended Scotch.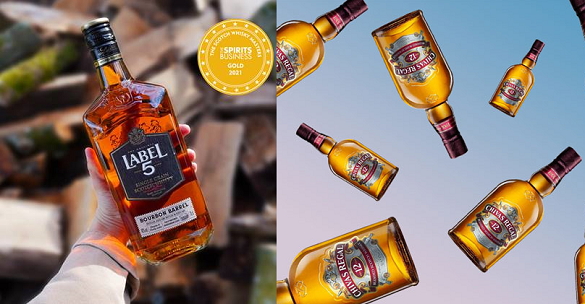 It is possible that Pernod Ricard's flagship among 12 year-old blends, Chivas Regal, might regain third place.
But thanks to the collapse in travel retail which accounted for a quarter of its pre-pandemic sales, its last half-year results were down 16% on the 3.7m it posted for 2020.
Described as 'the jewel in the crown' when acquired from Seagram's in 2000, Chivas Regal may well be in need of a serious polish.
Behind these front runners, it's pretty close with Diageo's Black & White – which acts as a recruiting sergeant for the more premium Buchanan's – on 2.9m cases in 2020, followed by two French-owned blends – Label 5 and William Peel on 2.6m, as is Bacardi's Dewar's blend, followed by the once mighty J&B on 2.3m cases.
Whether that order has changed in the past 18 months is unclear. But certainly no-one has come anywhere near challenging the seemingly unassailable Johnnie Walker. And while the volume and value of single malt whisky sales continues to grow, blended Scotch continues to dominate the market.
For more on this, plus which distilleries the best-selling blends use to create their flavours, see this WhiskyInvestDirect Table of the Top Blended Scotch Whisky Brands.
Front Page Image: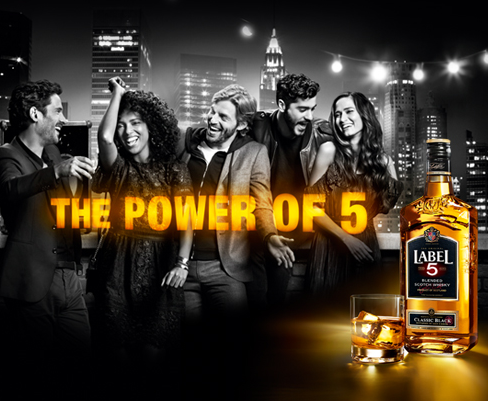 Award-winning drinks columnist and author Tom Bruce-Gardyne began his career in the wine trade, managing exports for a major Sicilian producer. Now freelance for 20 years, Tom has been a weekly columnist for The Herald and his books include The Scotch Whisky Book and most recently Scotch Whisky Treasures.
You can read more comment and analysis on the Scotch whisky industry by clicking on Whisky News.